LG 55LM960V 55in Smart TV
Olympic champion?
Passive viewing
The panel itself is built around LG's proprietary LED Nano diffuser. Working in conjunction with variable local dimming tech, this screen-wide plate evens out the light from the LED clusters behind, minimising hotspots and halos. Unfortunately it's only moderately successful and there remain issues regarding backlight uniformity, particularly on darker scenes.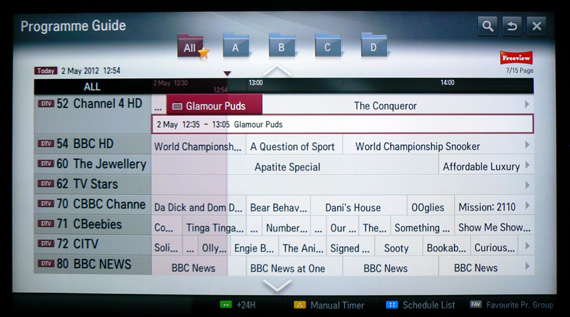 EPG
That said, motion resolution is top notch. LG attributes this to an MCI (Motion Clarity Index) of 1000Hz. I've long since given up trying to understand frame rate nomenclature, so what this refers to is anyone's guess. All you really need know is, that with the TV's TruMotion function turned on, detail is crisp all the way to 1080.
Unfortunately, this clarity also comes with motion artefacts, seen as smudgy disturbances around the edges of some moving objects; still the set does have a manual De-Judder setting to dial most out. Generally, colours are spectacular and the set offers immense contrast, albeit at the expense of shadow detail. Daytime TV looks great!

Slim and stylish
3D is a particular strong point, with LG's Passive FPR panel providing immersive dimensional viewing. With a screen this large, there are inevitable compromises in picture sharpness when you use Passive tech, but when viewed head-on there's no crosstalk double imaging to worry about either. Included in the box are seven pairs of inexpensive polarising glasses, enough to keep family and friends happy.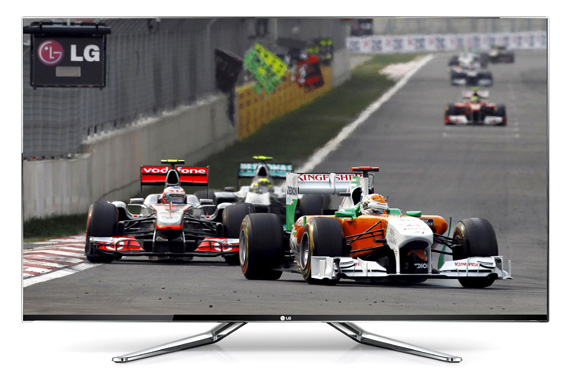 Works with cheap, passive 3D glasses and there are dual specs included to take advantage of split viewing for gaming
As an offshoot, the screen also offers Dual Play. By wearing specifically polarised Dual Play glasses (there's a colour-coded pair included in the box), you can view the split screen output from a two-player console game as two separate, full-screen images. This is obviously a wizard wheeze although in practice there's quite a noticeable breakthrough between viewpoints. In a road racer, where players share the same track, this may not be too noticeable, but on a FPS such ghosting can prove fatal.
Verdict

Overall, the 55LM960V can be considered a superior flatscreen with a fabulous feature roster. But there are caveats that prevent its picture performance rating higher than a B+ when you consider the asking price for the set. Close then, but no best-of-breed cigar. ®
More TV Reviews

Toshiba
Regza
46YL863
Philips
46PFL9706T
Ten...
smart TVs
Samsung
PS64D8000
Sony
Bravia
KDL-55HX923
Sponsored: Minds Mastering Machines - Call for papers now open

LG 55LM960V 55in Smart TV
LG's 55in flagship features its own nano filter tech plus a whole lot more and a price to match.