Google+ takes on a location element as it pushes deeper into iPhone
Choc Factory keen to keep a tentacle touching the fanboi
Google has pushed its social network Google Plus deeper into the iPhone and given it a location element, launching the Google + Local app yesterday. Google is wriggling itself into more crevices on the iPhone before the axe falls on Google Maps in September, when Apple will introduce their own maps app in iOS 6.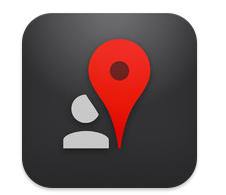 The friendly logo for the new Google + Local app
The search giant has rebranded its popular iOS app "Google Places" as "Google + Local" and tied it up to their social network - a change that comes just a week after Google introduced Chrome for iOS.
Places offered a useful local search function that pulled in data from Google's vast information reserves and displayed details and maps to what's around. The Local app now uses Zagat place summaries to provide accurate content and has a voice search function.
Described as "everything you loved about Google Places and more", the changes are relatively small - mainly the introduction of reviews from people you know, and a re-prioritising of venues depending on where your friends have been.
Readers may be familiar with Google's cunning way of introducing Google + into places it was not before - see the Gmail debacle, and it looks like the company is doing a similar thing here. Or it could just be an excuse for Google to keep a location- and identity-enabled app running on iPhones and collecting useful information once Maps is gone (as is the case also on the great majority of Android devices). ®
Sponsored: Fast data protection ROI?