Bluetooth gizmo lets you take card payments via smartphone
Square-a-like swipe or type offering for cashless Blighty
Retailers who've been waiting for Square to jump the pond can now sign up with startup mPowa, and start using a Bluetooth reader capable of processing Chip 'n PIN cards.
mPowa does have a reader almost identical to the headline-grabbing Square, one which balances on top of an iPhone to read the magnetic stripe, but they'll also provide an (equally free) box which connects via Bluetooth to accept Chip-'n-PIN-authenticated transactions: though with no better rate and customers perhaps reluctant to share their PINs, one might ask why bother?
Square and its ilk process credit card transactions for companies too small to deal direct with the banks (though Square itself has moved into vouchers and stored wallets lately).
Square will charge you 2.75 per cent for a swiped card, but 3.5 per cent plus 15 cents if you type the details in manually (reflecting the increased chance of fraud). Chip n' PIN should be much more secure, reflected in a lower rate, but mPowa will take 2.95 per cent (plus 25 pence)* regardless whether the details are authenticated with a PIN, swiped from the mag stripe or typed in manually, removing any incentive to improve security.
Most people in the UK are reasonably comfortable using a PIN in a shop these days, shop keepers have gotten good at wistfully staring into space as the PIN is entered under a covering hand. A commercial Verifone terminal is solid in the hand, industrial enough to engender confidence, but the mPowa kit is rather more consumer-electronics and would certainly make your correspondent think twice before sharing his banking PIN.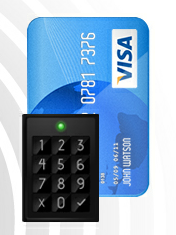 PINs are useless without the card these days, and cards are tough to copy, so the fear is probably unfounded, but given that mPowa is asking the same rate when the retailer types the numbers in manually there seems little reason to ask customers for their PINs.
However the details are gathered the service does make it really easy for anyone to accept credit card payments, even if they decide to move on once those credit card transactions mount up. ®
*mPowa's headline rate is .25 per cent, but that's only for those who are already dealing direct with a bank, to whom the retailer will also have to pay a cut.
Sponsored: Minds Mastering Machines - Call for papers now open