Brits upscaling their TV buys
Bedroom or living room, sets are getting bigger
British homes may be generally smaller than those of, say, the US or Australia, but the nation's TV buyers are nonetheless increasingly keen on bigger and bigger tellies.
UK TV sales fall into two broad categories: small and large. It's not hard to understand why. We buy small sets for bedrooms, bigger ones for the living room.
But within each band, buyers are clearly shifting toward larger physical screen sizes.
Figures posted this week by European research company GfK confirm what most TV market watchers knew anecdotally: traditionally, Brits favour sets that are 19in or less for their secondary sets while the sweet spot for family viewing televisions falls in the 26-32in band.
These sizes are still widely cited as UK TV buyers' favourites.
That may have been the case back in 2007, but it's no longer so clear cut.
Back then, 19in or smaller sets accounted for 30.1 per cent of TV sales, 26-32 inchers for 37 per cent of telly sales. Very large, 43in and up accounted for a mere 3.5 per cent of sales; 20-25 inchers for 8.2 per cent.
The remaining segment - sets sized 33in to 42in - accounted for 21.2 per cent. In 2012, they account for 22.1 per cent, with their share of the market being musch the same through the intervening years, rising no higher than 24.1 per cent and no lower than 20.4 per cent, according to GfK.
That over-time consistency is mirrored in the broader small and large categories as a whole.
UK TV buying then and now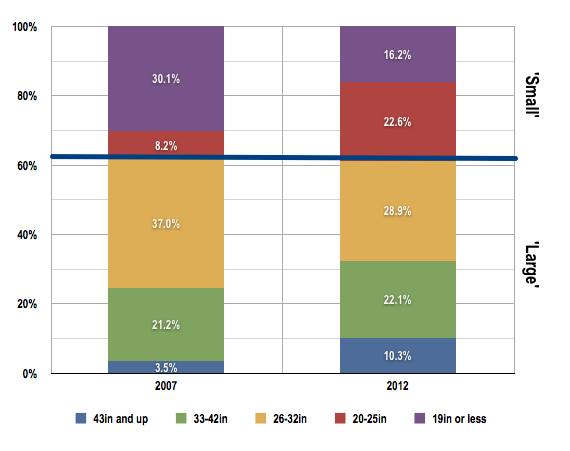 Data Source: GfK
Small TVs - those of 25in or less - have accounted for around 38 per cent of television sales from 2007 onwards. What has changed is the mix within that broad band. The 20-25in band has expanded while smaller sizes have contracted: by 2012, up to 22.6 per cent and down to 16.2 per cent, respectively.
Likewise, the 'large' band - 26in and bigger - is effectively the same as it always has been in terms of its share of the overall TV market but, again, within it there has been a marked shift away from the 26-32in band to the 43in and up segment.
According to GfK, 26-32in sets this year have accounted for 28.9 per cent - down from 37 per cent, recall - while 43in sets' share has risen almost threefold to 10.3 per cent. Sales of 60in-plus sets are particularly strong, says the research firm.
To what extent this trend reflects falling prices - punters spending the same amoung of money as before, but now getting a larger screen for it - or a desire to have a bigger set no matter what.
The fact that the 43in-plus band, while only 10.3 per cent of unit sales accounted for 26 per cent of the market by value, suggests that consumers are opting for bigger sets and paying more for them. ®
Sponsored: Minds Mastering Machines - Call for papers now open