Mad fan-fitted mouse keeps mitts moisture-free
Play for hours, no sweat
Suffer from excessively sweaty palms when you're gaming on your PC? Accessory maker Thermaltake has a - rather bizarre, IMHO - answer: a mouse with its own tiny clip-on fan.
The Thermaltake Black Element Cyclone Gaming Mouse blows a gentle breeze over a player's hand, thanks to its detachable USB-powered air cooler. The Taiwanese manufacturer says this is the world's first pro-gaming mouse to come with its own cooling fan.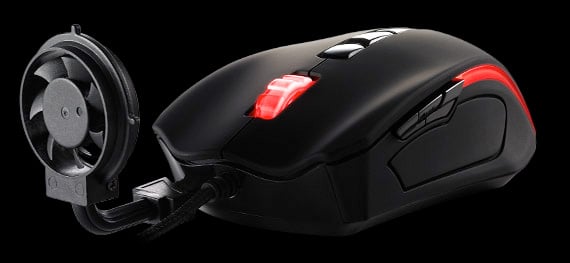 Apparently there's a huge population of overworked PC gamers out there who spend their days literally sweating it out in front of their computer screens. These guys really need… well, a desk fan would do the job, wouldn't it?
Still, the Cyclone is quite a beastly mouse on its own, with a 6500dpi movement resolution, removable weights and nine macro buttons. Oh, and some cool glowing colours that can be changed to suit the mood.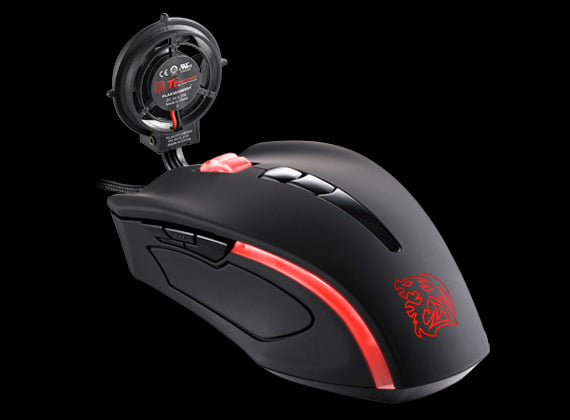 If you fancy getting your mitts on Thermaltake's Black Element Cyclone Gaming Mouse, head on over the TTE Sports website for further information. The price is TBC.
Careful of those fingers, though. As much as that fan looks pretty safe from behind, you could end up with worse tips than a bad-tempered bellhop if you're not careful. ®
COMMENTS
Inelegant. Surely a better solution would be to have the fan mounted inside the mouse, and the skin made grille-like. Also, that's got to affect weight distribution. That would annoy some gamers I know quite a bit.
Agreed! I don't recall the *back* of my hand ever getting sweaty while using a mouse.
If you'r pro.....
You could be fragging and nail clipping at the same time!
Re: Bad implementation of an old idea
Thermaltake. I've heard of them before. They make fans and powersupplies.
So I have to wonder if this is really a mouse with a fan attached, or if it's actually a fan with a mouse attached.