D-Link DHP-1565 802.11n router with integrated powerline
One box, three networking technologies
Pipe dreams
The D-Link delivers decent powerline performance, clocking up a ten-run iperf 2.0.5 pipe-filling average one-way bandwidth of 175.6Mbps, peaking at 177.6Mbps, on the somewhat artificial Reg Hardware lab bench: adaptors at either end of a power gang. It's not the best 500Mb/s link I've seen, but it's still well ahead of 200Mb/s adaptors.

Throughput in Megabits per second (Mb/s)
Longer bars are better
Wi-Fi transfer was reasonable, but nothing special. Performance is so dependent on where there router is placed and in what kind of building, your mileage may vary. Copying a stack of files from a USB stick connected to the D-Link's USB port produced a peak speed of 49.5Mbps. That was close up – after moving to the far end of Vulture Central, the maximum transfer speed I saw was 21.3Mbps.
Speaking of the USB port, it's branded "SharePort" by D-Link, which means you can share devices over the WLAN and powerline network. Except this requires special software, produced by Silex Technology, on the client. Under Windows I had no problem accessing the connected drive, but the Mac app – which D-Link doesn't even bother rebranding these days – seemingly couldn't see the drive, even running its lastest, Lion-friendly version. There's no Linux release at all.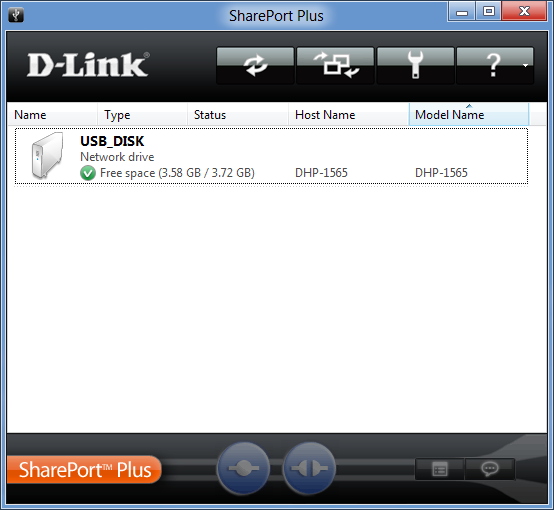 Sharing what's connected to the router's port requires dedicated software
There's no on-board modem, cable or ADSL, on the DHP-1565, but dedicates one of its five Gigabit Ethernet ports for its internet feed.
Good dual-band routers are cheaper than the £100 or so the DHP-1565 sells for, but they don't come with powerline built in. The essential extra 500Mbps powerline adaptor will add 50 quid or so to the overall price, but then you'd spend the best part of £100 adding a powerline link to a regular router.
Verdict
D-Link's router is interesting because it offers integrated powerline networking alongside the built-in Ethernet and Wi-Fi, but it disappoints with its OK but unimpressive wireless performance. I can forgive the iffy USB sharing – I'd hook up a Nas box no matter what – but the lack of 5GHz support would put me off as a purchaser.
Whether the D-Link represents good value to you will depend on the extent to which you value 5GHz Wi-Fi over powerline or vice versa, but don't ignore its easy access point setting, so you could hook up two of these over a 500Mb/s powerline backbone to extend its 2.4GHz wireless reach. Indeed, you might not need 5GHz with that set-up. ®
More Networking Gear Reviews

Philips HMP2000
HD Media Player
Ten... dual-band
wireless routers
Ten... Mi-Fi HSPA 3G
wireless mini-routers
LaCie
Cloudbox
Lindy wireless
projection server
Sponsored: Minds Mastering Machines - Call for papers now open

D-Link DHP-1565 802.11n router with integrated powerline
An average single-band 802.11n router that, uniquely, also incorporates powerline networking too.