D-Link DHP-1565 802.11n router with integrated powerline
One box, three networking technologies
Review Running network traffic over the data-unfriendly environment of mains wiring is a trick Reg Hardware has been enthusing about for some years now. Only once in that time has anyone integrated it into another product.
That, to refresh your memory, was a power brick Netgear put out for its routers. It was a standard AC adaptor with a built-in powerline feed and an Ethernet cable to get data in and out of the router.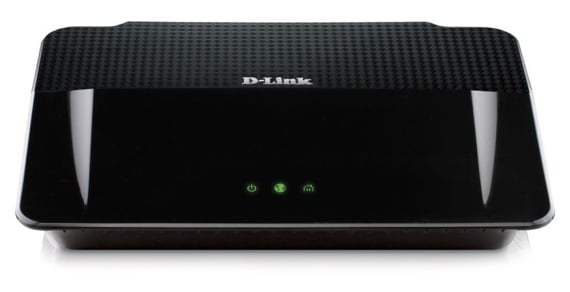 Mains serving: D-Link's DHP-1565 router
D-Link's DHP-1565 Wireless N PowerLine Gigabit Router may have a name that's a bit of a mouthful, but it's a far better attempt at powerline integration than Netgear's effort was.
This time the powerline adaptor – the power brick too, for that matter – are inside the case, so there are no extra cables to confuse the punters. It really is plug and go, and you can have the thing up and running – from a powerline perspective – in seconds.

The usual array of router portage – powerline runs through the A/C in, of course
The DHP-1565 doesn't come with extra powerline adaptors, so you'll need to factor in extra money for them, but you'd have to do the same if you were buying any other wireless basestation whose reach you want to extend with powerline.
The D-Link supports the IEEE 1901 standard at a peak speed of 500Mbps – that's 250Mbps peak on the uplink or downlink – which means it's also compatible with the 200Mbps HomePlug AV spec. The router's four Ethernet ports are Gigabit, as is its fifth Ethernet port, to which you hook up your broadband box.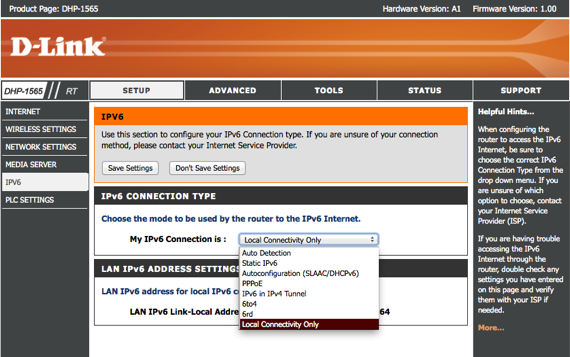 IPv6 is well supported
For folk like me who want to turn the device off when it's not in use – overnight, say – there's a power switch on the back, and switch to flip the box into Access Point mode if you want to use it that way.
COMMENTS
Re: …hook up two of these over a 500Mb/s powerline backbone
You can get homeplug wireless access points.
500Gb over mains....
Watch out for interference to DAB and FM......Buy and have fun
Ha ha ha!
Why did you put powerline in the headline?
Better wear your flameproof suits. The Radio HAM brigade will be here soon threatening you with sharp sticks because you mentioned powerline networking in a positive light.
At £100 a router, a pair would be a little steep for Powerline.
Better getting a decent router and a pair of the TPLink or Devolo's for around £60
I setup Devolo's in my parents house and they love the roaming 4/5 bars around the whole house, where before the iPad would drop out in half of it.
Nearly There
This is just what I need, but please can I have more than 4 network connections, and an ADSL router built in?.
Currently I have 4 on my ADSL router and another 4 on my NetGear Powerline hub, and it works a treat.
I have to plug in Xbox, WD TV Live Box, BD Player, TV plus NAS. I'd rather save WiFi bandwidth for laptops etc, so hard points are good for me.