Graphic equaliser
Utilising Dual Graphics is certainly handy if you're a casual gamer and want higher frame rates, and although it may not be a dramatic performance boost, it can certainly give you an edge to make gaming smoother and more playable. Another advantage of the use of Dual Graphics is that you can use AMD's Eyefinity multi monitor technology.
A stretch of road: AMD Eyefinity multi-monitors displaying Dirt 3
Unfortunately the A series needs a new socket; the FM1, but handily any AM3/AM3+ CPU cooler is compatible with the new socket. So if you have a favourite third party cooler for that socket, there's no need to bin it. AMD's flagship A series chip is the A8-3870K Black Edition which can be brought for around £100 (if you shop around) which puts it up against one of the most popular Intel Sandy Bridge Core i3 processor's, the Core i3-2105.
AMD A8-3870K Black Edition

The quad core A8-3870K Black Edition sits at the top of the desktop A series. It features a clock speed of 3.0GHz but unlike some of the other members of the A series, it doesn't feature Turbo technology and has a TDP of 100W. Each of its four cores has 128KB of L1 cache and 1MB of L2 cache. It uses the fastest HD6550D version of the integrated graphics core, which is based on the 5000 series desktop GPU, with a clock speed of 600MHz and uses 512MB of system memory.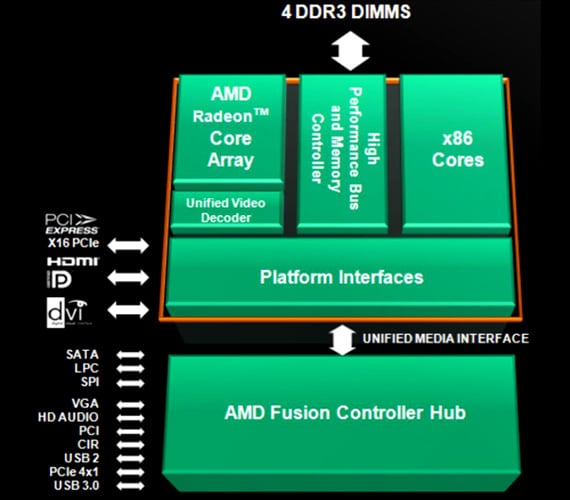 AMD APU chipset block diagram
The Black Edition tag at the end of the name tells you that it's a CPU with its multipliers unlocked, so it supports overclocking but it's not only the processing core that can be overclocked, the GPU core can be as well.
As a head to head on cost, an Intel Core i5 is too expensive to put up against the A8-3870K Black Edition. Yet, at this price point there are a number of Intel Core i3 processors for comparison with one of the most popular options being the Core i3-2105. And given the low-end Ivy Bridge processors have yet to make an appearance, the Sandy Bridge line-up is all there is to match currently.
COMMENTS
What exactly...
is the point of this review???
The author basically picked up one chip each from the Intel and AMD lineups that have roughly the same price (without ANY justification as to why these particular ones were picked), performed a comparison around a minimal set of vapid benchmarks (!) and then reached a verdict that said.. what exactly? "Cheap as chips".. riiiight....
Instead, why not do a feature on which motherboards look the prettiest? Ooh, look at the lovely blue heatspreaders there...
Re: AMD still trailing
Several reasons.
First off, OS's are increasingly reliant on graphics capabilities. Even business workers want all the pretty (and sometimes usefull) effects on their desktops. A more powerfull embeded GPU helps them run more smoothly.
Also, a GPU embedded in the CPU can be more efficient, saving on power. This is a plus for businesses and consumers. For those who need more grunt, an APU can be paired with a more capable discrete card, and the discrete card can be powered down when only light graphical work is done, saving power, keeping things cooler, and prolonging battery life in mobile environments.
Possibly the more important reason is that GPUs areincreasingly used for non-graphic purposes. Even users who don't play games or use graphically intensive apps can benefit from a more capable GPU, and this is likely to become more prevalent as time goes on. So a nice APU would be of great benefit to low end systems where the workload is capable of uitilising it, and these workloads are expanding rapidly. Even something as simple as playing a YouTube video can gain in both performance and efficiency with a more capable GPU than has been available to integrated graphics users before the advent of the APU.
Finally, there is the trend towards integration. This has happenned throughout the developement of electronics, and usually leads to cheaper, better products. Moving the components from an add-in card, to the chipset, then into the processor is a logical progression which happens all the time, and usually benefits everyone.
Still confused
The main thing preventing me upgrading my PC's processor is that I have no way to properly compare processors! Infinite choice is no choice at all.
Graphics cards are even worse.
Re: AMD still trailing
Businesses don't care about graphics FOR NOW. The GPU components of these APU's are basically just a huge bunch of vector processors. Better GPGPU support (like the HSA stuff in Winzip and Handbrake) will give chips with a powerful GPU component a big boost.
And many mid to low range laptop buyers have two choices: get an APU laptop and have decent graphics and CPU for a cheap price, or buy the equivalent iX series and have awesome CPU with sucky graphics. The numbers say AMD makes a good enough case for many consumers in this price range.
Re: What exactly...
Indeed. It doesn't even give the price of the intel part which dispute being only 2 real cores seems to outperform the Amd on processor tasks.
Some tdp data for the intel would not have gone amiss either.