AMD and Intel mainstream desktop CPUs
Cheap as chips?
Graphic equaliser
Utilising Dual Graphics is certainly handy if you're a casual gamer and want higher frame rates, and although it may not be a dramatic performance boost, it can certainly give you an edge to make gaming smoother and more playable. Another advantage of the use of Dual Graphics is that you can use AMD's Eyefinity multi monitor technology.

A stretch of road: AMD Eyefinity multi-monitors displaying Dirt 3
Unfortunately the A series needs a new socket; the FM1, but handily any AM3/AM3+ CPU cooler is compatible with the new socket. So if you have a favourite third party cooler for that socket, there's no need to bin it. AMD's flagship A series chip is the A8-3870K Black Edition which can be brought for around £100 (if you shop around) which puts it up against one of the most popular Intel Sandy Bridge Core i3 processor's, the Core i3-2105.
AMD A8-3870K Black Edition

The quad core A8-3870K Black Edition sits at the top of the desktop A series. It features a clock speed of 3.0GHz but unlike some of the other members of the A series, it doesn't feature Turbo technology and has a TDP of 100W. Each of its four cores has 128KB of L1 cache and 1MB of L2 cache. It uses the fastest HD6550D version of the integrated graphics core, which is based on the 5000 series desktop GPU, with a clock speed of 600MHz and uses 512MB of system memory.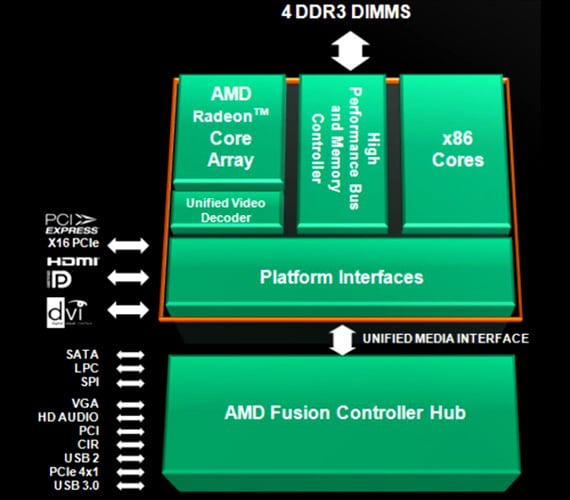 AMD APU chipset block diagram
The Black Edition tag at the end of the name tells you that it's a CPU with its multipliers unlocked, so it supports overclocking but it's not only the processing core that can be overclocked, the GPU core can be as well.
As a head to head on cost, an Intel Core i5 is too expensive to put up against the A8-3870K Black Edition. Yet, at this price point there are a number of Intel Core i3 processors for comparison with one of the most popular options being the Core i3-2105. And given the low-end Ivy Bridge processors have yet to make an appearance, the Sandy Bridge line-up is all there is to match currently.
Sponsored: Minds Mastering Machines - Call for papers now open