DDR 4 sets the pace for fast memory
Ramping up the Ram
Exceeding the limits
There are two significant problems that need to be overcome in the design of DDR 4 systems, both caused by the point-to-point architecture.
The first involves the handling of large amounts of memory: all that extra data being processed per cycle makes handling high memory volumes particularly challenging. This is a problem for servers which may have to use switches to reduce the number of direct channels between Dimms and the memory controller.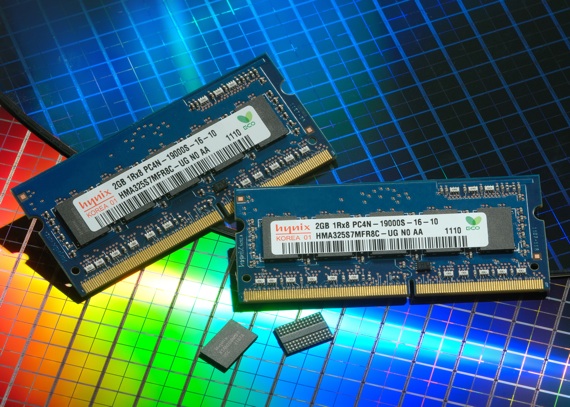 Hynix does DDR4
The second problem is space. Point-to-point connections take up more room than multi-channel interfaces and so the memory chips need to be denser to fit in the same space. Samsung's 30nm-class processers will alleviate that problem.
While speedy, low-power memory is important for desktop and laptop computers, it is crucial for servers. The potential gains for a huge data centre such as those run by Google, Facebook, Apple and Amazon are vast.
Mike Howard, an analyst with iSuppli, says: "Server platforms are the ones really screaming for this stuff because they need the bandwidth and the lower voltage to reduce their power consumption."
It is the potential for generating revenue in the enterprise market that is driving Samsung and its competitors. One of those competitors is Micron.
The company is behind both Samsung and Hynix in the market but announced in May that it was in talks to acquire bust Japanese memory maker Elpida. That deal, assuming it is completed successfully, would make Micron the second biggest manufacturer of computer memory in the world, behind Samsung.
Coming sooner... or later?
Micron has also partnered with Taiwanese memory manufacturer Nanya in a bid to compete with Korea's Samsung and Hynix. Micron's first DDR4 module was shipped to key partners in May and the company says it expects to ship in volume by the beginning of Q4.
Like Samsung, Micron is offering a DDR 4 module built using a 30nm-class fab process and will initially achieve speeds of up to 2400MT/s before ramping up to 3200MT/s.
Micron predicts that the first DDR 4-based products will hit the shelves in 2013. But one hindrance to mass adoption is the CPU manufacturers: until they integrate DDR4 into their processors' memory controllers, we won't see the full benefits.
Micron predicts that the first
DDR4-based products will hit the shelves in 2013
Intel's current roadmap adds support for DDR 4 in its Xeon Haswell-EX processor, due only in 2014. Support for desktops and notebooks is likely to be further away than that.
Howard, however, is optimistic. "While Intel is only supporting DDR 4 on its server platforms in 2014, I have a feeling it's going to push it to its compute platforms as well in 2014," he says.
But his optimism may be misplaced. There are already rumours that Intel will stick with DDR 3 for Haswell, and rival chip maker AMD has yet to commit to DDR 4 at all.
It could be a while yet before we see DDR 4 in our notebooks and desktops. ®
Sponsored: Minds Mastering Machines - Call for papers now open