Dell still on a Quest quest for software?
Someone is trying to outbid equity firm – again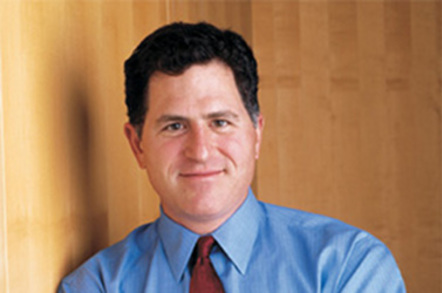 It looks like someone – very likely Dell, if all the rumors are right – still wants to get its greedy mitts on the software bits being sold by Quest Software, a company that has collected a hodge-podge of tools aimed at data centers over the past decade, and that in March received a $2bn takeover offer from private equity firm Insight Venture Partners.
The deal for Quest Software proposed by Insight, initially at $23 per share back, had a "let's go shopping" provision that let the software vendor gussy itself up and look for other suitors as if this were some kind of prime-time dating experience.
Well, for Tech Titans, this kind of thing is both business and entertainment, so the difference is practically nil.
As May wound down, rumors were going around that Dell was interested in acquiring Quest Software. By early June, however, the rumor had it that talks between Dell and Quest had broken down.
As it turns out, someone has continued negotiating with Quest Software, which is publicly traded on NASDAQ and which seemed to be initially pleased with the bid from Insight. That first Insight offer represented a 19 per cent premium over the share price back when the deal was announced, and kept relatively new CEO Vinny Smith in power and contributing the bulk of his shares in the acquiring company to do the deal. Smith owns 34 per cent of Quest Software's shares, so his support for the deal is key.
On June 14, Quest Software said it had received a better offer, worth $25.50 a share, from a bidder it did not name and which the rumor mill has suggested all along is Dell, which is hungry for software to peddle to data centers.
Then on June 19, according to a statement from Quest Software, Insight hooked up with private equity firm Vector Capital and together they increased their bid for Quest Software to $25.75 per share, or about $2.17bn, which is a 33 per cent premium over the share price on March 8 before the Insight deal came to light.
As part of the revised merger agreement, Quest Software accepted a breakup fee of $25m, nearly four times that of the original deal. In this amended deal, the actual details came to light: Insight is kicking in $187m, Vector is kicking in $187m, Smith is rolling over 84 per cent of his shared into the new company, and the rest of the $1.2bn is coming from debt financing from JP Morgan Chase, RBC Capital Markets, and Barclays Capital.
Basically, the banks are really going to own Quest Software when this is all done, at least until the private equity firm can flip it to someone else who wants to pay even more for it.
But maybe not.
In a statement today, Quest Software said a "strategic bidder" – again assumed to be Dell based on rumors running around Wall Street – had proposed $27.50 per share in cash, which works out to $2.32bn and a 41.8 per cent premium for the company based on its March 8 closing price of $19.40 per share.
This seems like a lot of dough to pay for any company these days, and is particularly high based on the relatively small earnings that Quest Software delivered last year, when revenues were up 19 per cent to $858.2m but net income was cut in half to $43.9m.
As El Reg has said before, Dell and Quest have been partners since 2004 so they are known quantities to each other, but for the deal to make sense you have to figure that Dell would need to at least double Quest Software's sales over a relatively short term to get a suitable return on capital.
This is possible, since Quest Software has some well-regarded tools, including the Toad database management, NetVault backup, vRanger VM replication, FogLight application performance monitoring tools, plus a suite of Windows Server management tools as well as identity and access management tools.
The question is how much cash does Dell want to blow on Quest Software. Dell might have $12.8bn in cash and equivalents on hand right now, but it also has $9bn in short-term and long-term debt, so it really only has $3.82bn in net cash. If it pays too much for Quest Software today, it may not have enough money to make a strategic acquisition down the line.
In addition, Dell did not exactly do well in its first quarter of fiscal 2013 ended on May 4, with revenues down 5 per cent to $11.4bn and net income down 33 per cent to $635m.
Dell has promised Wall Street it can cut $2bn in costs over the next three fiscal years while at the same time providing a dividend for the first time in its history. It can only do that if it doesn't over-indulge on acquisitions.
Your move, Insight and Vector. ®
Sponsored: Minds Mastering Machines - Call for papers now open