Why I love Microsoft's vapourware tablet
Probe beneath the Surface
Something for the weekend, Sir? When I first got into this journalism lark in the late 1980s, the exploding nature of the personal computer market would force the hand of IT companies to reveal products far in advance of their intended launch date.
Such was the race to give the appearance of being cutting-edge, they sometimes found themselves announcing products that existed only in diagrams on a boardroom flipchart. Surprisingly often, nothing ever came of these vapourware products: the engineering challenges of their mass-production proving uncompetitive and their technologies absorbed into other projects or sold off by liquidation administrators.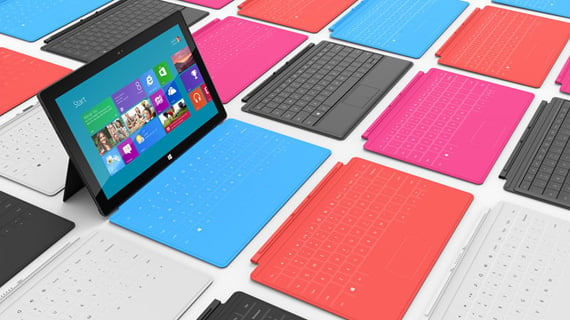 Microsoft's new keyblet
I don't wish to suggest that Microsoft Surface is truly vapourware, but surely it's suspicious that it's announcing a product that no one's going to be able to buy for half a year.
One supposes that Microsoft intends to create a buzz and get us talking about their forthcoming (new) foray into tablet computers. Yet the problem with jumping the gun - apart from the 'false start' accusations that lead on from this metaphor - is that commentators are left with a void to fill. Lacking a physical product to test, all we can do is talk bollocks based on conjecture.
This, as you know, is my specialty.
First, let me say that I don't care a hoot about the provenance of the name 'Surface' - ho-ho, it used to be a table, so fucking what? Making fun of a name tells us nothing about the product.
Take 'Metro'.
"We call it Metro because it's modern and clean." Oh, and here's me thinking they called it Metro because it's populated by young Algerians brandishing flick-knives and smells of wee. It's just a word to put on the packaging and its actual meaning has no significance. After all, what does the word 'pod' have to do with playing MP3 files?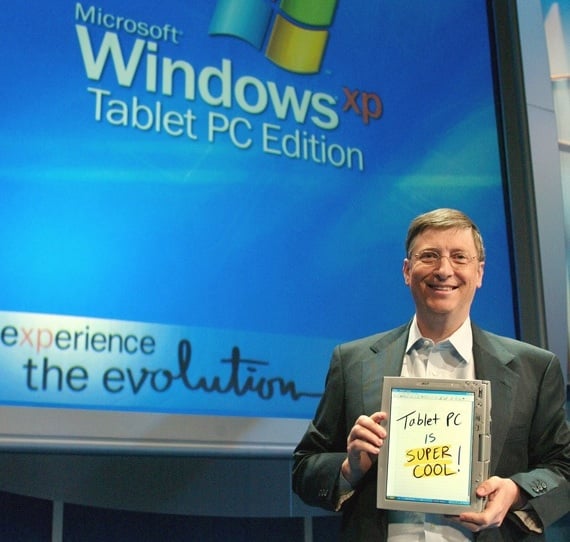 Doomed to repeat the mistakes of History?
What I find funny is how the marketing spiel is written for products that don't exist, because the writers have no choice other than to make a big deal of nothing in particular.
"The addition of the Micro SD card slot means you can bring your entire movie and music collection with you on vacation." What, it plays VHS videos and C90 cassettes?
COMMENTS
Re: Sure is
"Upvoted nonetheless for calling Dabbs crap. That can't happen often enough."
If Dabbs is crap, what the hell were you doing reading this article? I've stopped reading the 'Open and Shut' stuff from that ex Ubuntu guy, because most of it is rubbish. Although he's written a few good ones. I thought the first article I noticed by Dabbs was utterly rubbish, but I've enjoyed his last few, including this one.
Re: No one's going to be able to buy for half a year.
Everyone except the market leader in tablets, Apple.
"About the same as an ultrabook"
I must admit that when I heard that was the moment I figured Surface would never work.
Ultrabooks have been a stunning sales success... for Apple.
What's the opposite of "synergy"?
Because MS is demonstrating exactly this. There's "Surface", an ARM-based tablet that is very similar to the iPad: Halfway affordable, light, long-running, Appstore-only apps. Just that it will run *only* Metro-only Apps for Windows 8 compiled for ARM, of which exactly none exists right now. Hard to see why it should fare better than WP7 with smartphones.
Then there's "Surface Pro", an Intel-based low-end Ultrabook with an optional awkward keyboard and a display angle you can't adjust, making a hot and short running, heavy, expensive tablet PC into a laptop you won't be able to use on your lap. It will also run every old Windows application on a 11.6" screen with 1920 x 1080 pixels, which will mean the keyboard, trackpad, digitizer and stylus aren't just nice options -- they are there for a reason. How this thing should be much more successful than the bad old Tablet PCs I don't know.
So each of these devices lacks something important that the other has in scores: Surface is a great tablet with no apps and Surface pro has all the apps and compatibility without being an usable tablet or even an Ultrabook.
MS should have named them "!Synergy".
Re: The Crash
There seems to be some confusion going on here. There are TWO versions of the surface tablet. One is a Tegra 3 powered WinRT machine, which is expected to sell for the same kind of money as an iPad. Being Arm powered it won't be able to run any of the back catalog of Windows code.
The second tablet is Core i5 powered and is likely to be priced like an Ultra Book. It is large and more powerful than its sibling, and WILL be able to run old code, allong with providing a digitiser pen. it will however be unlikely to run for more than 5 hours on battery as its only got 40w hours of capacity.
Both are of course still vapourware and subject to change.