Choose Smarter: Ten… USB 3.0 External Hard Drives
Big storage
Product Round-up Hard drives are still the most cost-effective way of adding extra storage capacity to a desktop or laptop. They are cheap to buy, easy to use and remarkably robust in service.
Solid-state drives may be quicker, but while the prices of hard drives continue to fall, their capacity goes on climbing, so the overall cost per gigabyte is quickly getting lower and lower.
Here are ten external drives based on the USB 3 high-speed connectivity standard all ready for data transfer, archiving and back-up duties.
Buffalo MiniStation Extreme

This is a smallish but surprisingly heavy unit at 230g. But with a whopping 1TB drive and a shock-resistant casing it was never going to be a featherweight. Buffalo quotes a survivable drop height of up to 2.3m, which if true is impressive.
The unit's wraparound cable is a neat piece of design, the cord tucking neatly out of the way when it is not being used. Of course that means it is a bit on the short side, so Buffalo kindly bundles in an extension lead.
Like most Buffalo devices, the MiniStation Extreme comes with all the utilities Buffalo think you will need to get started: backup, Ramdisk for creating a virtual hard disk, and TurboPC for faster file transfers, file encryption and power management.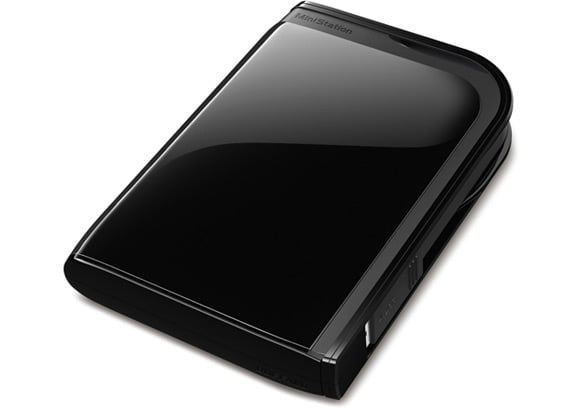 Reg Rating 85%
Price £79 (500GB), £111 (1TB)
More info Buffalo
Buffalo MiniStation Stealth

This compact, no-frills drive comes in a choice of fingerprint-attracting black or plain white finishes and is backed by a two-year warranty.
Buffalo bundles some programs under the Buffalo Tools banner to help you move data around: SecureLock for encrypting your data; Ramdisk; Eco Manager, a power management utility; and TurboPC for increased file transfer speeds. 
It is a competitively priced drive, but it is also the slowest performing model in this group.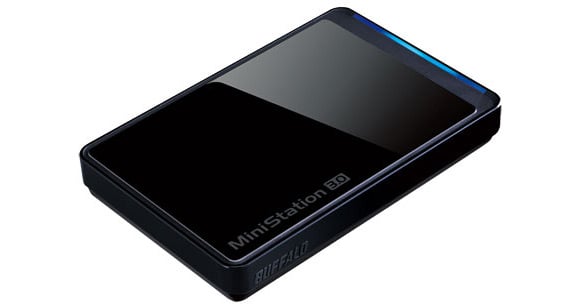 Reg Rating 65%
Price £76 (500GB), £84 (1TB), £131 (1.5TB)
More info Buffalo
Freecom Mobile Drive Sq

Proving that external hard drives don't have to be boring lumps of plastic, the Mobile Sq is a stylishly slim (10mm) drive. Its award-winning square design with stainless steel sandblasted finish certainly makes it look the part beside your notebook or Ultrabook.
Nero's useful BackitUp and Burn software is bundled with the drive.
While it is a lovely looking piece of kit, you are certainly paying for those looks. The 1TB version here is £40 dearer than the 1TB Buffalo MiniStation Extreme, for example.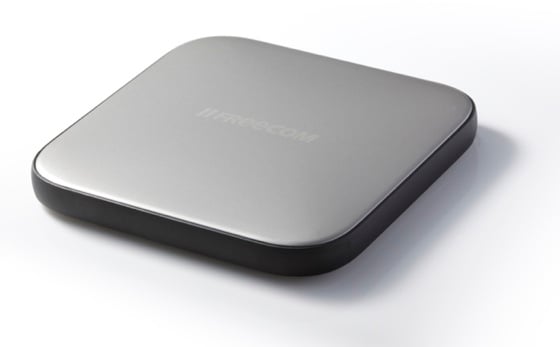 Reg Rating 75%
Price £105 (500GB) £160 (1TB)
More info Freecom
COMMENTS
Rugged
I've got a couple of the older generation Lacie Rugged orange drives and they are good. The robust enclosure just gives a bit of peace of mind if you have to lug around backups offsite everyday.
I just wish someone out there would make an enclosure like that (but perhaps even better) so you could fit your own drive. I'd be tempted to stick an SSD in one for added shock proofery, though SSDs aren't exactly renowned for their data reliability just yet.
What I'd also like to see is someone create an mSATA enclosure to fit these types of SSD... http://regmedia.co.uk/2010/11/08/blade_1.jpg
120GB+ of rapid shock-proof storage in something smaller than a 2.5" enclosure would be excellent.
Re: Rugged
I echo Mr T's sentiments. Never have Passports lasted for very long and the most trivial shock seems to kill them.
Re: nice, but not what I'm after...
RAID 5? 15TB? Eeek!
but there are 2TB drives on the market
like Western Digital My Passport 2 TB USB 3.0 Portable Hard Drive WDBY8L0020BBKNESN ($199 on eBay, $190.86 at Amazon). Why didn't you include it in the review? Of course Samsung M2 (and S2 BTW) is very good drive, but you won't see 1.5TB and 2TB drives from Samsung in the nearest future IMO.
nice, but not what I'm after...
Hey, El Reg...
I currently have a RAID5 14TB rack-mounted fileserver I built myself (I tinker - my wife gave me a full-size 19" computer rack for one of my birthdays) which is about to reach the end of its life. I don't feel the need to build yet another one, so how about reviews of rack-mounted fileservers?