Tweak to perfection
Visually, this TV is capable of quite deliciously clarity, although you'll need to negotiate a forest of calibration to enjoy it. First order of business is to dive into the Pixel Perfect HD menus and disable Natural Motion, then take the Sharpness control down to zero and tame the backlight intensity. With excellent greyscale tracking and deep, crispy blacks, it's visually stunning given a good HD source.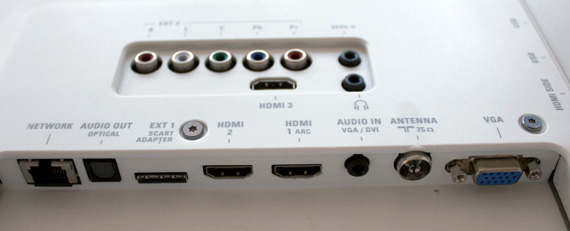 A tidy array of connectivity around the back
Philips proclaims that the filter system delivers a black level ten times greater than previous LCDs, and it might be right. Movies look terrific, provided you don't have a natural intolerance to the 'soap opera effect' slickness that Clear LCD processing brings to everything. It can be turned off, but there's a corresponding drop in motion resolution.
The set's full array backlight prevents the unevenness typically seen with side lighting, however all too often the set's local dimming becomes distractingly obvious on dark scenes; it's as if there are gremlins playing with lighters behind the screen.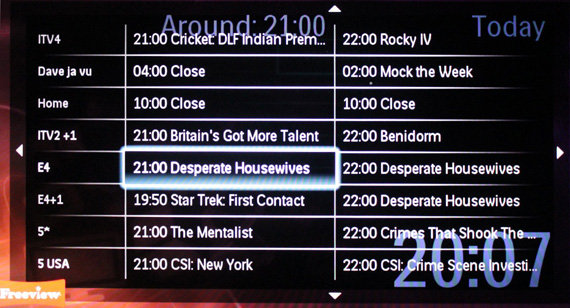 EPG
The screen comes with two pairs of active shutter glasses. Running through a selection of stereoscopic Blu-rays, it's apparent that brightness is not an issue. However, crosstalk double imaging remains an issue.
One 3D offshoot is a full screen gaming mode which takes a split screen image and presents it as two separate full-screen images to those wearing shuttering glasses. While a good in principle, the separated images are awash with ghost imagery. It's like playing against a mate from the afterlife

. Yet sonically, this screen rocks. The 2 x 20W audio system is built into the stand itself, and sports two downward firing woofers.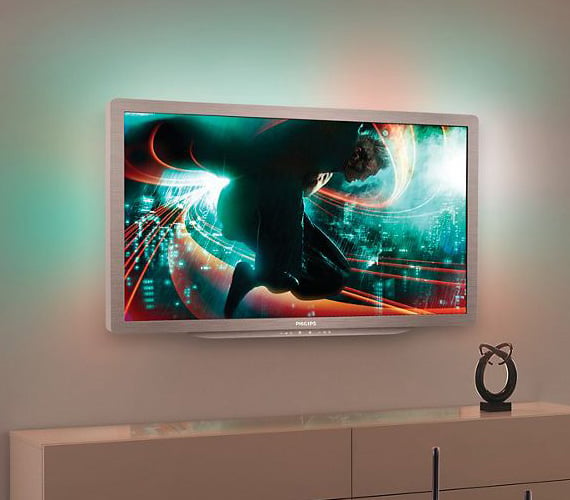 Wall mounting brings out the best of the Ambilight features
Verdict
Overall, the 46PFL970T can be filed under technically adventurous but not entirely practical. That the moth eye filter works is not in doubt, but it clearly comes at a cost. £2,200 is a phenomenal price for a 46in TV, even one capable of blisteringly good pictures and beyond the grave gaming. ®
More TV Reviews

Toshiba
Regza
46YL863
LG
47LM670T
Ten...
smart TVs
Samsung
PS64D8000
Sony
Bravia
KDL-55HX923

Philips 46PFL9706T 46in 3D smart TV
Ambilight 3D Smart LED TV with moth-eye screen filtering to enhance image detail.
COMMENTS
Painful
I found your review painful to read. "this TV is capable of quite deliciously clarity" really? Do you even read what you've written?
Moths stalk their prey? yes quite. Flowers can be very evasive.
Re: Painful
Forget about the flowers, think of the poor defenseless light bulbs!
Really ?
"non-reflective properties of a moth's peeper. In nature this helps said insect stalk prey"
You sure about this ? Doesn't sound like the moths down my way ...
is it 3d
when youre lying down cos I have a sofa and I'm gonna use it?
Re: Really ?
Certainly doesn't stop the buggers flying straight into every bright light they come across.