The Hague says Apple infringed Samsung patent
Incremental win in excremental battle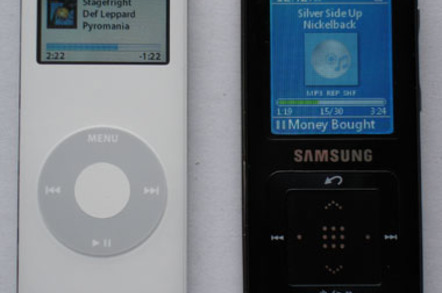 The worldwide lawyers' progressive dinner that is Apple-versus-Samsung has stopped over for a quick dessert in The Netherlands, where a court has decided that Samsung has been wronged and should receive damages.
It's only a partial win, however: the case brought in The Hague covered four 3G patents, but the court has only awarded Samsung a win on one count, referred to in the judgment as "patent EP 269".
In full, that's European Patent 1188269, "Apparatus For Encoding A Transport Format Combination Indicator For A Communication System".
The case hinged on Apple's use of Intel and Infineon baseband chips in iPhone 3G, 3GS and 4 without paying a license fee to Samsung. The verdict finds that this caused harm to Samsung, and has said Apple is to pay as-yet-unspecified damages to its South Korean competitor.
The Dutch ruling puts the Netherlands at odds with Germany, where a ruling in Mannheim in March found that Apple isn't infringing on the 269 patent.
Apple is continuing to tell anybody who will listen that Samsung has stolen its ideas because of the resemblance between the Galaxy SIII and the iPhone – because clearly, there can only be one black, rectangular fondle-phone in the world. ®
Sponsored: Minds Mastering Machines - Call for papers now open