'Unbreakable' Samsung Galaxy Note II to take on iPhone 5
Harder, better, faster, stronger
Samsung will launch a Galaxy Note successor with an "unbreakable" screen this autumn.
The Korean giant is said to be readying its Galaxy Note II for a release this October in a bid to directly compete with Apple's next big smartphone offering, local site MK Business News reports.
According to industry sources, the Note II will pack an unbreakable slimline display even larger than than that of its 5.3in predecessor. It will also feature a longer battery life, a sturdier build and… drum roll please… a quad-core processor. I know, right?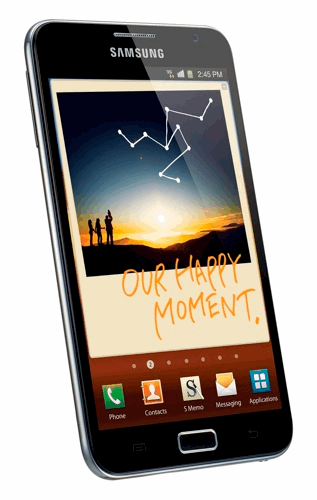 Something Note-worthy?
By the time it hits shelves, Google's next Android platform 'Jelly Bean' should also be available and the Galaxy Note II will settle for nothing less, apparently.
Whether it can actually compete with the next-gen iPhone is another matter, but for those of you who believe size matters, it'll certainly be something to consider. ®
COMMENTS
I really, really love the galaxy note
Seriously, have you seen somebody use one as a phone? It's hilarious! It's like a real-life version of Dom Joly. More of these please - and remember to shout as loudly as possible when on the phone!
Unbreakable?
...perhaps, but is it unblendable??
Make it a 1080p screen and I'll have one. I rarely use a phone for calls and when I do I tend to use a yuppie earing anyway. I'm probably in the minority there, but a crossover phone / tablet with a high resolution / high density screen would be great (for me). Add in robust usb file handling for moving images and video from usb connected cf to an external hdd and I'll love it even more!
Re: A word of caution
Really? twice a day? I often get 2 days use out of my Note - maybe about 30 mins of calls a day, reading about 40 emails a day and replying to about half of them, an hour or so of web browsing, an hour of ebooks and about 3 hours a day listening to music while at work.
If the battery is sitting below 40% of a morning, I find an hour's charge will keep it going for the next 24 hours at least.
Re: A word of caution
Er..google it. Even Google's engineering team recommend leaving apps running. It's down to the app to play nice with Wi-Fi connections etc. Apps can tell when they are foreground or background and act accordingly. Google Finance is a good example. I have that running all the time and it knows to update when it's foreground or brought to the foreground.