Fridge Magnets
Although refrigerators need to remain cool, owners have no obligation to keep the fridge looking cool. So if you're an Apple fanboi, these iOS app magnets will certainly help achieve the "I'm a loser" look that you so obviously crave. Combined with those magnetic word packs, rearranged to write an array of Cupertino flattering comments, your fridge could really be the epitome of geekery gone too far.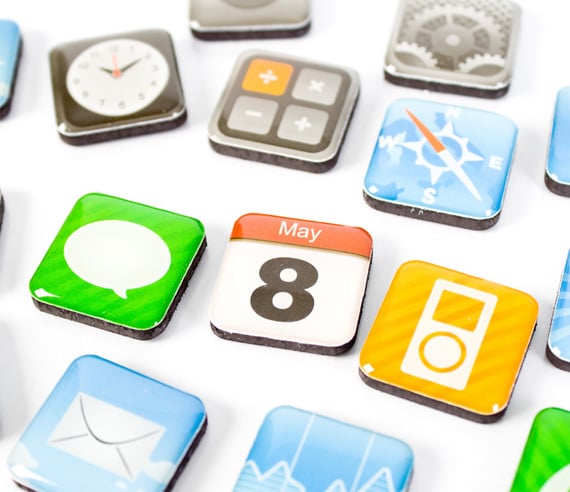 Furniture
Fridge decoration is far too minor for the Apple ultra-fan, who would probably want his entire furniture collection to be iRelated too. While many may make their own Apple logo-shaped tables, it's all about comfort for me. These apple chairs from famous spherical-seat maker Adelta are a pretty rare find, with only about 60 ever made. Sources say Jobs and co snapped one up themselves in 2005 from Paul Smith's furniture shop in London. I'm no fanboi myself, but I'd love to have one in my room.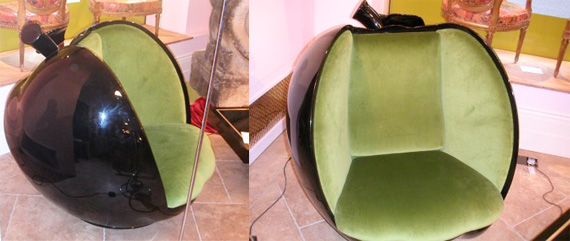 Glasses
iPhone users are rarely concerned with specs. By the time a new handset hits the market, there tends to be a more powerful rival on a nearby shelf somewhere. I doubt there are any true Apple fans, though, who would turn their nose up to a pair of these super-retro Apple specs.
It is believed Woz had 30 pairs of them made by an artisan glasses maker, so getting your hands on a set is fairly unlikely. Still, its something to look out for.

Note Pads
Apple may have sent the lawyers round to shut down the production of Notepods, an iPhone-esque notepad collection, however there are still a plethora of similar products up for grabs. Firebox offers the NotPad, which is essentially a 60-page iPad themed notebook. Not sure how this company bypassed the Cupertino council, but if you're a true fan, perhaps you should act fast before any of them notice.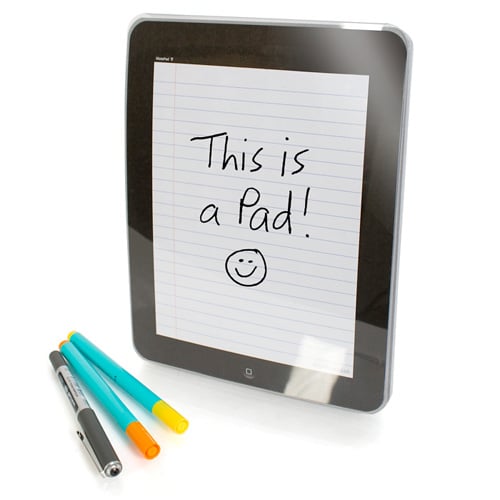 Steve Jobs figurine
Another Apple-related product that was barred from hitting the market was the Steve Jobs action figure doll, unfortunately killed off out of respect for the former CEO's bereaving family. That doesn't mean to say fans can't get their hands on other Jobs replicas, though. Amazon has a few of them. Ok, they don't exactly look as good as the aforementioned action doll, but could still be an essential piece of Steve Jobs Apple ware for the fanboi mantlepiece.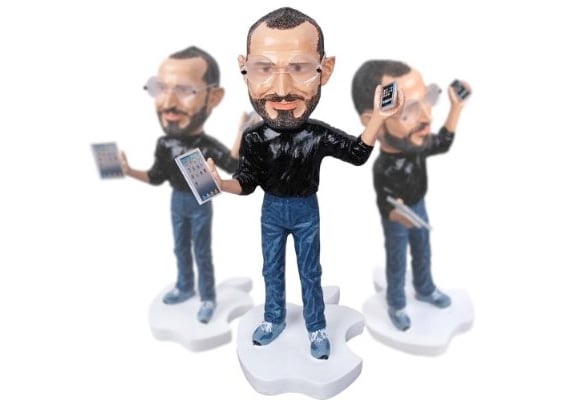 Throwboys
Fans that have already decorated their bedding with that fugly duvet set mentioned earlier, might like to kit their room out further with these Apple icon-styled cushions. There are six of the fleece-covered pillows to choose from and if you buy all of them, you only pay for five. Save a little bit of money for another app perhaps? Woot woot. ®

Ten... pieces of tat for Apple fanboys
COMMENTS
Marketing clothes to fanbois
Easy. You launch the black T-shirt. They all buy it. Then you launch the white one. They all buy it. Then you launch v2 (the one that works, because it has a hole for your head) in black. They all buy it. Then you launch v2 in white. They all buy it. Then you launch v3 (slighly more rounded neck opening) in black. They all buy it, Then you launch v3 in white. They all buy it. Shiny black. Shiny white. Any goddam tiny change you want - the mugs will queue for hours to be amongst the first ten thousand to have one.
Meanwhile you patent the T-shirt and sue Marks and Spencer.
Just don't try sticking those magnets on a Samsung fridge. Not unless you like the prospect of being dragged into court by Apple's lawyers for copying their 'look and feel'.
Re: cufflinks
You could just buy the Dell Cufflinks. They are exactly the same but cost less. :P
The power-button cufflinks are not apple-specific. This is the universal symbol for a power-button !
Unless of course Apple thinks they invented either power or buttons !
Woz's specs
Specs? That should be iGlasses, no?