Crytek says future is free-to-play
Waves goodbye to retail
Crytek has revealed plans to leave traditional retail behind, with the developer set to go all out free-to-play for future games releases.
"We are in the transitional phase of our company... from packaged goods games into an entirely free-to-play experience," said Crytek boss Cevat Yerli in an interview with Videogamer.
"All the new games that we're working on, as well new projects, new platforms and technologies, are designed around free-to-play and online."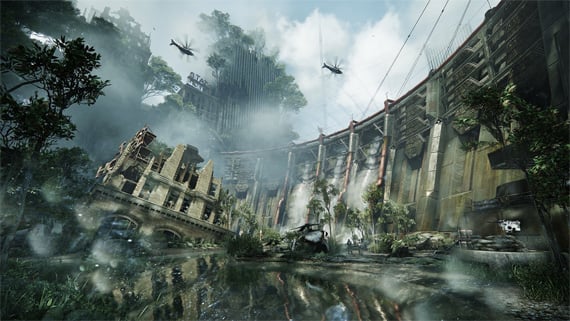 Goodbye cruel world of retail
This may mean Crysis 3, set to hit shelves in 2013, could be the company's last full-price retail title and potentially the final instalment of the franchise. Unless, of course, Crysis becomes an online free-to-play mashup - a far cry (no pun intended) from the current singe-player centric model.
Crytek has ran into piracy problems in the past, with Crysis 2 named the most illegally downloaded game of 2011. Crytek has also complained about the second-hand games market, backing rumoured plans to stop gamers buying cheap discs or swapping games with their pals.
Could free-to-play be the change of direction the developer needs, or has the threat of eye-patched internet surfers actually pushed one of gaming's more revered developers into an area that generally appeals less to the hardcore masses?
With dwindling subscription figures, BioWare is said to be looking towards making Star Wars: The Old Republic a free-to-play game as well, GamesTM reports. ®
COMMENTS
Secondhand market - boohoo
It's legal. Tough.
As oft-mentioned, you don't see BMW sobbing like a girl because of Autotrader.co.uk
Merchandising!
Where the real money from the movie is made!
Spaceballs the T-shirt!
Spaceballs the Colouring Book!
Spaceballs the Lunchbox!
Spaceballs the Breakfast Cereal!
Spaceballs the Flame Thrower!
(The kids love that one.)
Re: Not Good, well maybe...?
"I still don't see what the problem is with the old fashioned system of "Make Good Game->Sell Game->Profit!!""
I think they struggle with the first part, so are trying to find a way how to skip it and go straight to steps 2 and 3.
Re: Explanation needed?
Having played some of the quite astonishing rip-offs to be found in the free-to-play market, which are technically free to play - unless you want to actually have a competitive chance, or more than 10% of the game content - that system can frankly sod off. To pay for all the actual content in a FTP game generally costs more than a retail game would, or you can spend an amount of time equal to several lifetimes trying to unlock it all for free.
Was barely interested in Crytek's stuff before, less after they called people buying 2nd hand games thieves, and now not at all. Good job, guys.
Re: Merchandising!
Dammit! Given a list of n items. People will only remember n-1. Which is why I always put an elephant at the end of my shopping list.