Pricey performer
Wired network users will mourn the loss of an Ethernet port, though Apple is offering this - surprise, surprise - as an option for an extra £25: it clips into one of the two high-speed Thunderbolt ports.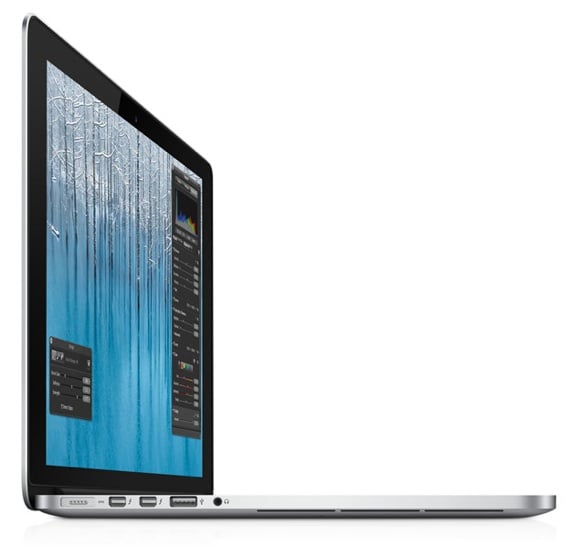 The discreet airvents help keep the MBP warm not hot
The basic £1799 model includes a shiny new Ivy Bridge Core-i7 processor running at 2.3GHz, along with 8GB of 1600MHz Ram and a 256GB SSD that Apple claims is faster than that used in previous models.
There's also a 2.6GHz model with 512GB SSD that costs £2299 – which seems like a lot for a relatively modest upgrade, but that's SSD pricing for you. The Ivy Bridge chip includes the new integrated Intel HD 4000 graphics, but the Retina model also includes a separate Nvidia GeForce GT 650M graphics processor with a gigabyte of dedicated video memory, allowing you to switch between the two graphics chips in order to maximise either performance or battery life as required.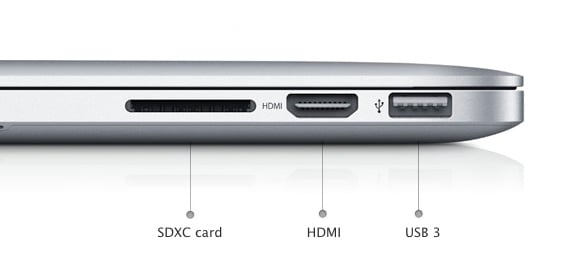 HDMI on a notebook Mac at last
Unfortunately, I wasn't able to use Boot Camp to install Windows on this machine to run Reg Hardware's standard laptop benchmarks. Apple hasn't yet updated the necessary package of drivers. Instead, I used GeekBench, which produced a consistent score of 11,060 – a clear improvement over the 9500 scores reported for 2011's 15in MacBook Pro.
I was curious to see how the battery would hold out, given the resolution and brightness of the Retina display. I couldn't use PCMark 7 to torture test the battery, but using Wi-Fi to stream HD episodes of EastEnders on the BBC iPlayer seemed like torture enough.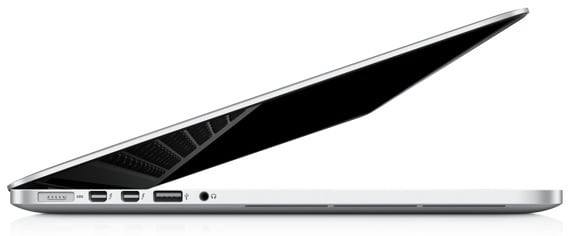 No on-board Ethernet means a £25 add-on for wired network users
This Retina model has a 95Wh lithium polymer battery, compared to the 77.5Wh battery in the standard 15in MacBook Pro, and it allowed me to stream about four hours and 50 minutes of cockney capers – only ten minutes short of the five hours I've seen on previous, non-Retina models. That's pretty good going considering the demands of the screen.
COMMENTS
Re: ....you failed.
"Yes it is compromising on connectivity. When will the Apple Fanbois realise that Apple it's slavish legions aren't going to bring Thunderbolt to the world as they've decided to trademark it for themselves and everyone else will now have to license if they want to use? How many "Thunderbolt" peripherals are there? And how that are available still carry a ridiculous apple-like price premium. Adapters are adapters, awkward, annoying and from Apple, ridiculously expensive."
You spelled 'Intel' wrong.
...you *do* know that it's an Intel technology... right?
Not wanting to be rude here - where are you finding an equivalent spec for £900? I'd be delighted to buy something with the same CPU/chipset for £900. The best I can find is around £1100 for a machine with less RAM and no SSD. Oh, and less competent graphics hardiware.
Where's the 15" screened model from a rival with the same resolution then?
Thought not.
Re: you still use optical drives?
Why, yes. My last copy of CS5 and Quark eXpress came on DVD as it happens, as did the operating system, OSX, I believe it was called.
About fucking time
I am looking forward to everybody and his dog copying that screen and finally killing the low-res crap we've had to put up with until now.