Screen space or detail? Choice is yours
Point is, you have a choice. Screen resolution is an aesthetic consideration as well as a technical one, and it's an example of the attention to detail that sets Apple apart from its rivals.
My first step was to open up some PDFs in Preview, and the outstanding precision of the text fair took my breath away. Next up was iPhoto, which really shines when you view some high-res photos in its full-screen mode.
However, it's video that really shows the Retina display in all its glory. Admittedly, even 1080p HD content has to be scaled up on this screen, but the improved contrast ratio – Apple claims it's 29 per cent higher than previous models; whatever the figure, the difference is readily viewable – really produces excellent results. The use of IPS technology in the Retina display also makes a big difference, maintaining terrific brightness and clarity through almost a full 180° viewing angle.
Apple could have been forgiven for stopping there and resting on its snazzy screen laurels, but it has improved other aspects of the MacBook Pro design as well. There have been rumours floating around for months that Apple was preparing a 15in version of the MacBook Air. This model may come under the 'Pro' banner but it could certainly qualify as an Air as it measures just 18mm thick, compared to 24mm for the standard MacBook Pros and 17mm for the 13in MacBook Air.
It's lighter too than the other Pros too. It's 2.02kg, which is just less than the 2.06kg 13in MacBook Pro; the 15in MBP is 2.56kg. Admittedly, Apple had to chuck out the optical drive in order to cut down on the size and weight. However, that seems to be the only real compromise, and in most respects the Retina model matches the performance and features of the other MacBook Pro models.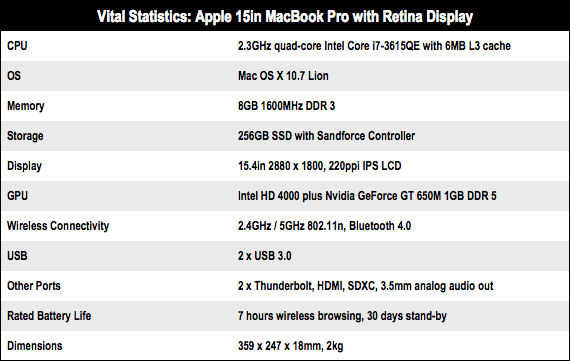 COMMENTS
Re: ....you failed.
"Yes it is compromising on connectivity. When will the Apple Fanbois realise that Apple it's slavish legions aren't going to bring Thunderbolt to the world as they've decided to trademark it for themselves and everyone else will now have to license if they want to use? How many "Thunderbolt" peripherals are there? And how that are available still carry a ridiculous apple-like price premium. Adapters are adapters, awkward, annoying and from Apple, ridiculously expensive."
You spelled 'Intel' wrong.
...you *do* know that it's an Intel technology... right?
Not wanting to be rude here - where are you finding an equivalent spec for £900? I'd be delighted to buy something with the same CPU/chipset for £900. The best I can find is around £1100 for a machine with less RAM and no SSD. Oh, and less competent graphics hardiware.
Where's the 15" screened model from a rival with the same resolution then?
Thought not.
Re: you still use optical drives?
Why, yes. My last copy of CS5 and Quark eXpress came on DVD as it happens, as did the operating system, OSX, I believe it was called.
About fucking time
I am looking forward to everybody and his dog copying that screen and finally killing the low-res crap we've had to put up with until now.