Mighty Blighty's channel like a giant looming across the, er, Channel
'We're a nation of shopkeepers box-shifters' - Context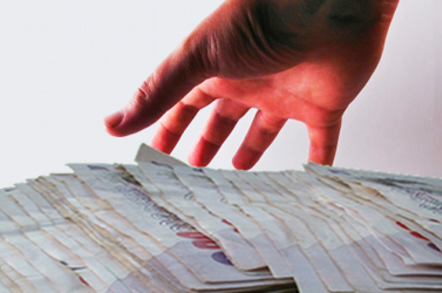 IT distributors in the UK shifted some £1.76bn worth of kit and services in Q1, stats from Context reveal.
This represents a whopping 18 per cent spike on revenues generated by the channel a year ago in spite of low consumer and business confidence and the storm clouds gathering over the Euro.
"The UK market posted stronger growth than any other country in Europe," said Context CEO Jeremy Davies, "we are more dynamic from a business perspective, Britain has a heritage as a trading nation and that clearly came through".
Clearly the Jubilee festivities have got to some more than others.
By comparison distributors in Germany flogged €2.3bn (£1.86bn), a year-on-year decline of 2.3 per cent and in France, wholesalers sold €900m (£730m) worth of products and services, up two per cent.
Computing remained the largest product segment for wholesalers (22.9 per cent of total sales) in Q1 with UK sales up ten per cent including an 8.6 per cent rise in notebooks, an 11.5 per cent climb in desktops and 174.5 per leap in tablets.
PC and Mac servers declined 16.2 per cent, workstations fell eight per cent and Unix-based servers dropped 22.6 per cent.
Both the weak economy forced enterprises and SME to halt refreshes or projects and virtualisation is also understood to have impacted upgrades, as firms that had already virtualised wanted more power, not shiny new systems.
Sales of networking gear - the second biggest seller in the channel (£168.2m) - went up 10.4 per cent with Cisco, which accounted for 63 per cent of distributor revenues, growing at more than 15 per cent.
Troubled HP was the only top five vendor to post a decline, down nearly nine per cent on Q1 2011, as Juniper, Netgear and Zyxel filed sales rises of 51.5 per cent, two per cent and 12 per cent respectively.
The storage sector had a tougher time, and was clearly still recovering from the flooding in Thailand last year, as sales fell 7.5 per cent to £114m.
Market leader HP (35 per cent share of revenues) saw sales drop nearly four per cent, as hard drive vendors WD and Seagate posted declines in the channel of 37 per cent and 39 per cent.
This indicates that while both HDD vendors were endeavouring to meet massive demand from global OEM customers, distributors had to make do with meagre rations.
IBM recorded storage sales rises of 15.7 per cent and EMC, which is taking action to finally becoming a channel friendly firm saw its sales through distribution leaping more than 50 per cent.
Following its split with Dell, EMC realised it need to get reseller on side and is handing over direct sales accounts to partners, and working toward having a hard deck of 150 customers in the UK that it manages directly.
Consumables sales fell 1.4 per cent to £107.5m.
The Channel is reliably informed by distributors that the reason for this was due to falling exports as the Euro fell in value versus Sterling, making importing more commercially viable for UK wholesalers.
HP, which had a near 60 per cent market share of consumables saw it unit sales increase by four per cent, Samsung was down 12.8 per cent, third placed Brother grew 14 per cent and Oki dropped 2.2 per cent.
Display revenues went up 1.6 per cent to £80.3m with Acer filing growth of more than 64 per cent but all other major players reporting declines with Samsung down 12.2 per cent and LG dropping 26.6 per cent.
Another peripherals sector, printers, felt the cold winds of recession and the continued shift to Managed Print Services, declining 9.2 per cent to £67.9m.
Sector behemoth HP saw sales decline 14.6 per cent which skewed the entire market given its dominance - 42 per cent share of the total revenues in Q1. Epson, Samsung and Xerox closed the gap at the top but continued to play catch up.
Warranties and Services sold by distributors grew 4.5 per cent to £79.9m with HP up two per cent (18 per cent market share), IBM growing nearly 59 per cent, Cisco growing 60.7 per cent and Juniper up 37.5 per cent.
Vendors are clearly making a more concerted play to push packaged services through distribution which works well for reseller that cannot provide their own in-house but leaves channel partners lacking greater control over their destiny.
Telecommunication kit was up 40.6 per cent to £71.4m but due to "confidentiality" Context said it was unable to break down the individual performance of the vendors.
Unsurprisingly, the PC components segment fell 16.6 per cent to £57.8m with Intel down 22 per cent, Kingston declining more than 32 per cent and Gigabyte down 27 per cent.
Most of the major local PC builders went bust in the middle of the last 2000s and the sector has not recovered and likely will not, as the industry shifted to mobile PCs and now multiple form factors.
Power equipment increased 3.7 per cent to £16.2m but again the top vendors could not be named true to confidentiality.
So that was Q1 - a much better start to the year than most crystal ball gazers forecast and one which coincided with the UK slipping into a double dip recession.
Maybe Davies at Context was right and the UK disties are a resilient bunch. ®
Sponsored: Minds Mastering Machines - Call for papers now open