New Opera 12 hooks web apps to 3D graphics acceleration
Screaming themes may mean screaming users
A new version of Opera's desktop browser rolls out today, six weeks after the public beta.
The list of new features hasn't changed much - and the new version also deprecates older features such as Opera Unite and widgets. HTML apps can now take advantage of experimental hardware acceleration and also access to the computer's webcam.
The hardware acceleration drills into the machine's 3D graphics processor to render pages, WebGL JavaScript code and the browser's user interface. It is enabled on an opt-in basis and remains labelled "experimental".
Plugins now run in their own separate ring-fenced process. The new browser certainly feels faster, though.
And for children who never outgrew playing with their mashed potatoes, there are many new themes, and making customising the software is a lot easier.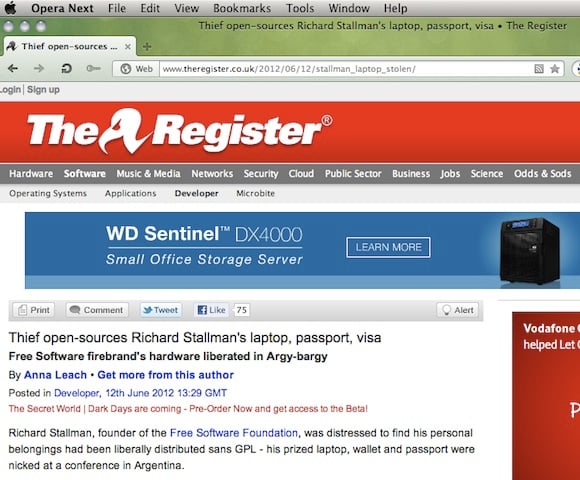 Garish discolouration can now be yours with Opera 12's new theme engine
Opera was recently touted as an acquisition target for Facebook. Last month the social networking giant included Opera as one of its three "recommended" browsers, ousting Google's Chrome.
Mac users will be hoping for fewer crashes. The most recent version (11.64) had all the stability of Ashley Young racing into the penalty box with a defender on his shoulder. ®
Sponsored: RAID: End of an era?