HBO 'sorry' for skewering Dubya
From Game of Thrones to Blame of Thrones
HBO has been forced to issue an apology after Game of Thrones' creators admitted a decapitated head - spotted in a scene at the end of the first series of the fantasy show - was actually a replica of ex-president George W Bush. Oops.
David Benioff and D.B. Weiss - the chaps behind the big-budget series - explained in the DVD commentary that impaling Bush's head on a stake had no political motivation but was the result of a a shortage of props.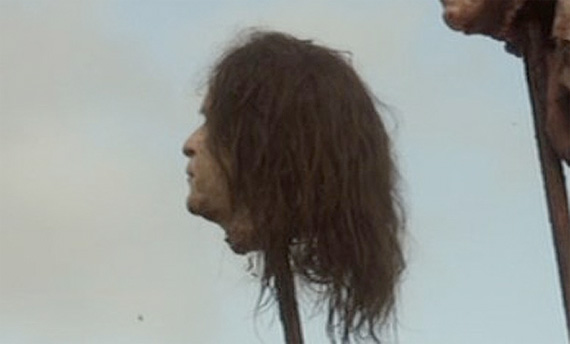 Some Republicans saw the matter differently. In an attempt to wipe the egg off its face, HBO quickly released a statement which said: "We were deeply dismayed to see this and find it unacceptable, disrespectful and in very bad taste... We are sorry this happened and will have it removed from any future DVD production."
The producers later said the mention in the commentary should have been omitted as well and apologised further for any disrespect caused to the former most powerful man in Westeros... er... the Western World.
Unfortunately, Bush - who now appears in a couple of scenes from Game of Thrones: Season 1 - was unavailable for comment when I tried his landline earlier. His secretary said he was out for lunch with the Prince of Darkness.
We don't know if she meant Dick Cheney, or somebody even more unearthly, but either way we probably shouldn't joke around. ®
Sponsored: Minds Mastering Machines - Call for papers now open