Apple, Time Inc. ink iPad magazine subscription deal
Year-long dalliance consummated at last
Apple and mega-magazine publisher Time Inc. have decided to consummate their year-long digital-subscription dalliance and go, as the kids used to say, "all the way" by sealing a deal that will allow iPad users to subscribe to Time, People, Sports Illustrated, and other rags directly from their Cupertinian fondleslabs.
"For a magazine or brand like People or Time, a tablet will become an increasingly important part of the experience," Time Inc. CEO Laura Lang told The New York Times. "Our goal is to offer content where our consumers want to read it."
Last May, Apple and Time Inc. made a half-hearted deal that allowed existing subscribers to obtain digital copies of their Time Inc. magazines on iOS devices, but not to actually subscribe to them on those tablets, phones, and digital-music players.
The sticking points, it seems, were twofold: Apple demanded 30 per cent of all subscription revenues from companies offering subsciptions over iOS devices, and wasn't willing to share the precious demographic data about those subscribers with the content providers.
Lang, who became Time Inc.'s CEO last November, taking over from an interim managing troika, apparently thought it wise to re-examine her company's relationship with Apple decision. In addition, according to the NYT, Apple itself has been re-examining its terms and conditions vis-à-vis content providers.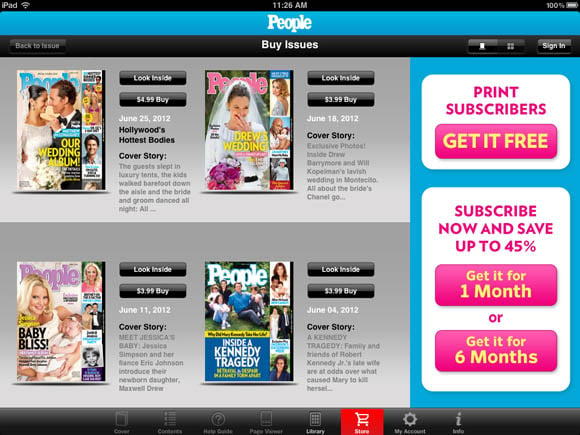 See those big ol' Subscribe buttons on the right? They weren't there yesterday (click to enlarge)
Apple being its ever-secretive self, the exact terms and conditions of the new deal have not been released – although the NYT reports that Apple's internet software and services headman Eddy Cue told them, "We offer the same terms to everyone no matter how big or how small." What those terms are, however, is unknown.
What is known, however, is that the new digital-subscriuption deal should be mutually beneficial to both companies. Apple's Newsstand service gains both credibility and potential customers by adding the largest US magazine publisher to its content providers, and Time Inc. gains a popular and possibly highly profitable venue in which to sell subscriptions.
After all, Time Inc.'s magazines have been having a bit of a rough go in recent years. People, for example, had a circulation of 3,578,189 in 2010, according to the MPA: Association of Magazine Media, which sunk by 32 per cent to 2,433,867 in 2011.
In the same period, Time dropped from 3,313,739 to 3,257,825 and Sports Illustrated from 3,193,688 to 3,138,438 – both 1.7 per cent declines. Other Time Inc. titles are also slipping: Golf Magazine from 1,434,733 to 1,376,533, Real Simple from 2,002,945 to 1,632,306, Money from 1,924,025 to 1,861,894, Essence from 1,058,845 to 892,317, and so on. All-in-all, circulation of the top 100 US magazines dropped by 7.7 per cent from 2010 to 2011.
Now that all of Time Inc.'s mags will be available for subscription on Apple's iOS devices – and, as we learned earlier this week, there are now over 365 million of the li'l fellows in the field – perhaps Lang's change of heart will get America reading again, if only about George W. Bush's severed head on Game of Thrones. ®