NASA's Curiosity rover will try risky landing near Mount Sharp
Space agency confident it can dodge mountainous Mars obstacle
NASA has decided to up the ante for the Mars rover Curiosity's arrival next month by pushing the landing site nearer to the foot of an inconvenient mountain.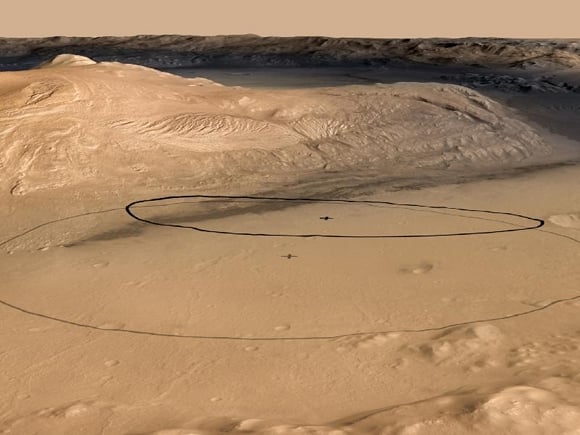 The old and new landing targets for Curiosity. Credit: NASA/JPL-Caltech/ESA/DLR/FU Berlin/MSSS
Obviously an obstacle like a mountain makes setting down a bit dicier, but the space agency is going to risk it so that the rover will be able to get to where it wants to be months earlier.
"We're trimming the distance we'll have to drive after landing by almost half," Peter Theisinger, Mars Science Laboratory (MSL) project manager, said in a canned statement.
NASA is more confident that the precision landing tech on the MSL, which is carrying Curiosity, can aim closer without hitting the forebodingly named Mount Sharp at the centre of the Gale crater because it will be using a new version of flight software uploaded to the travelling craft in the last two weeks.
The previous landing target zone for the MSL was around 12 miles (19km) wide and 16 miles (26km) long. The new narrower zone is just four miles wide (6.4km) and 12 miles (19km) long.
"We have been preparing for years for a successful landing by Curiosity, and all signs are good," Dave Lavery, MSL programme executive, said.
"However, landing on Mars always carries risks, so success is not guaranteed. Once on the ground we'll proceed carefully. We have plenty of time since Curiosity is not as life-limited as the approximate 90-day missions like NASA's Mars Exploration Rovers and the Phoenix lander."
Curiosity is due to touch down on the Red Planet at 15.31 GMT on 5 August (08.31 PST) to start its two-year mission to find out if Mars has ever or could ever support life. More upgrades for its surface ops are due to be beamed to the rover a week after landing. ®
Sponsored: RAID: End of an era?