Linux Mint joins mini-PC hardware business
Smooth and ribbed minty boxes for your pleasure
Linux Mint, flush with its recent popularity in the distro stakes, is looking to take the pain out of installation with its first hardware line, called mintBox, that comes in smooth and ribbed versions.
"We're passionate about what we do and for our very first Mint device, we wanted something unique, something special and extraordinary. The mintBox is Mint in a box. It's tiny, it's silent, it's extremely versatile and it comes packed with connectivity," said the group in a blog post.
The dual-antenna boxes come in a $476 basic model with an AMD 1.0 GHz G-T40N processor, 250 GB of disk storage and 4GB of RAM, or buyers can double the RAM and get a 1.65 GHz G-T56N chip for the $549 Pro model. Both mintBoxes use fan-free metal cases, with the Pro version's being ribbed for extra heat dissipation.
Each system has an HDMI port and a DVI adapter, with eight USB slots (two of which are USB 3.0), an RS232 port, and two eSATA sockets, along with Gigabit Ethernet. Bluetooth is built-in, as is 802.11 b/g/n Wi-Fi.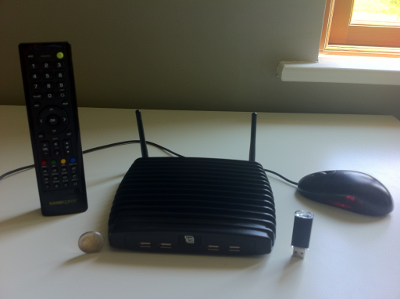 For those who like their high-tech titchy
Open source enthusiasts, who are almost by definition interested in fiddling about in the guts of technology, will be happy to know that the memory and hard drive are positioned to allow easy replacement, including with SSD kit. While the processor isn't upgradable, there's no doubt plenty of overclocking can be done if heat issues can be sorted.
Linux Mint is pitching the devices at corporates, the education sector, and internet cafes. It's also not the only company eyeing those markets – Google and Samsung announced a Chrome OS box going for the same dollar last month.
Of course, Linux Mint isn't making the boxes themselves. Production has been outsourced to Israeli manufacturer CompuLab, which is using the fit-PC3 model and preloading Linux Mint 13 Cinnamon, with version 12 with MATE 1.2 and XBMC also available. Of the sales price, 10 per cent goes to Linux Mint. ®
COMMENTS
No, it's not just you....
They are bloody expensive! Mint and Ubuntu are so easy to download and install - you could buy a regular box and pay someone to do it for you for that.
I would sooner have the 13 Raspberry Pi's thanks, especially running as a dedicated XBMC client..
Gotta love smooth or ribbed though, although I expected El Reg to make more of that, or is it just too easy?
Is it just me, or is that price really high?
Am I missing something?
Couldn't I get a laptop with better specs and an included screen for less?
Proper task division
your windows box is for your porn. Don't insult Linux.
To be exact:
Windows: to watch porn
Linux: to serve porn
Hope that clarifies matters :)
Re: Why XBMC...
It can handle some music or other videos but even you should know that your windows box is for your porn. Don't insult Linux.
> The mintBox is Mint in a box. It's tiny, it's silent, it's extremely versatile and it comes ...
... with a hole in the middle?