SanDisk Extreme 240GB


SanDisk's Extreme 240GB SSD uses combination of a SandForce SF-2281 controller and eight of its own 32GB 24nm Toggle NAND memory chips. The latest SSD from one of the masters of flash memory development certainly lives up to its name, with quoted sequential read/writes of up to 550MB/s and 520MB/s respectively.
On the downside there's nothing in the way of extras; no mounting kit or even any disk migration software to help the drive to be set up in the box, nor are any other versions of the drive offered with either of these two options included. Still, you can find this drive for a promotional price on-line for around £170 which is certainly worth thinking about.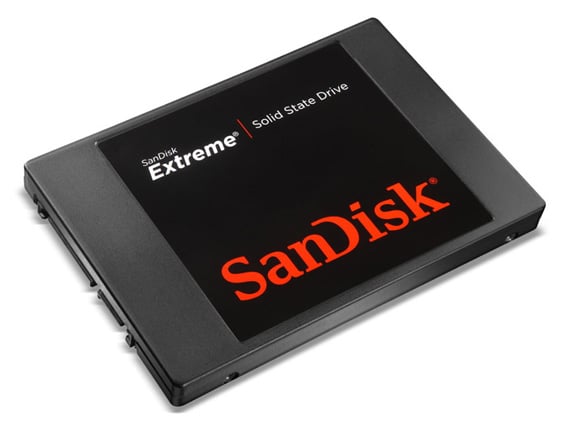 Reg Rating 80%
Price £220
More info SanDisk
Zalman F1 240GB


Zalman is same South Korean-based firm that makes those beautifully designed and built 'flower' CPU coolers amongst a whole host of other cooling products. It's not the first time Zalman has dabbled with SSDs, but the second generation F1 series – using the ubiquitous SandForce SF-2281 controller – is by far the best performing offering the company has produced to date.
Internally, there no surprises with the F1, it's all tried and tested hardware from the controller to the 25nm MLC Intel NAND memory it uses.
 The Zalman F1 is another drive that doesn't offer anything in box by way of a bundle but the company does offer the very good Acronis True Image HD utility but annoyingly only as a download. With a respectable read speed, its write performance was in the lower ranks and it's expensive too.

 ®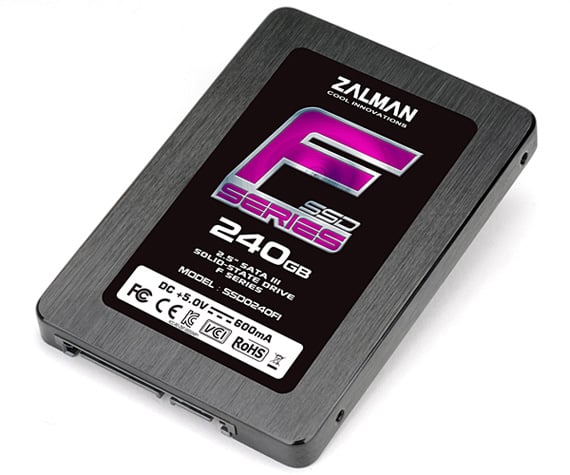 Reg Rating 75%
Price £305
More info Zalman
Benchmark Tests
CrystalDiskMark Results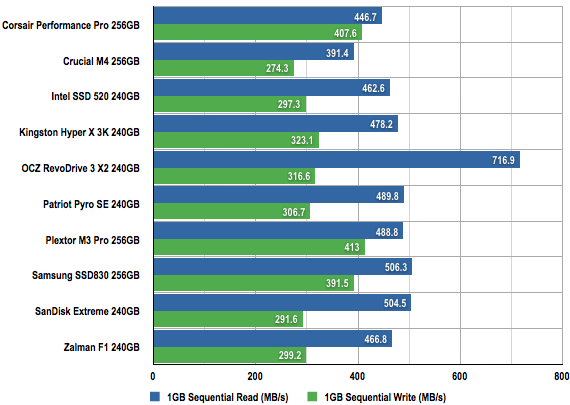 Data throughput in Megabytes per Second (MB/s)
Longer bars are better
COMMENTS
Lies, Damn Lies, and Bad Benchmarks
I am appallingly disappointed. I would have thought that everybody with a grain of understanding would by now know that sequential I/O tests are meaningless and that random read/write (especially write on SSDs) IOPS are the only meaningful figure for assessing the performance of disks. This should be done with write caching disabled, and the amount of data written in such tests should be at least 512MB of 10x the amount of cache on the disk, whichever is greater (to avoid the disk faking it by lying about commits - which incidentally some SSDs even from reputable manufacturers do with write-caching enabled).
And yet we only get sequential read/write performance figures for these disks.
The second most important figure for a lot of SSDs is power usage. This has also not been measured, nor even the manufacturers' (usually highly questionable) figures provided.
Can this technical oversight please be corrected so that the review is actually meaningful?
And tape drive £/Gb are far cheaper still so clearly that's the way to go.
"You can be certain that Samsung will be tuning up its SSDs even more going forward,"
Is that the same as in the future?
The calorifica value of a GB.
Well AC, if your criterion is £ per GB then SSDs will probably never fit the bill. However, what you've chosen is the equivalent of how many calories can I buy for my £. As such, you are clearly going to be basing your diet based on the products of Greggs (or Taco Bell if you are a citizen of the US). That's wonderful if all you do is low-value, manual labour but some do more interesting things.
For those with more discerning tastes, who value their own time and the responsiveness of systems, well we will value something more than just how many calories we can buy. There's a bit more to a storage than how many GB I can have.
Dont ignore the older drives.
If you just want a cheap but roomy enough upgrade for an older laptop then the older SATA2 Sandisk Ultra 120GB that are going for around £65 are worth a look.
Still three times faster then the HDD you have in there at the mo. Made quite a difference to my old laptop.