OCZ RevoDrive 3 X2 240GB


It's an SSD Jim, but not as we know it. OCZ's RevoDrives are not like your standard SSD, as they forgo the standard drive enclosure and SATA 6Gb/s interface. Instead this SSD storage is built on a PCB (or PCBs) that use the electrical interface of a 4X PCI-E slot on a motherboard. This gets around the potential bottle neck of the standard SATA interface and also offers the promise of huge data transfer rates in the future.
The RevoDrive 3 X2 240GB card is basically two 60GB standard SSD's complete with both SandForce controllers mounted on a PCB, with a another two 60GB drives and pair of controllers mounted on a daughter card. Its read speeds tower over all the other SSDs on test and so does its cost. However, it can easily be found for £100 less than the OCZ list price, if you shop around. Our full review is here.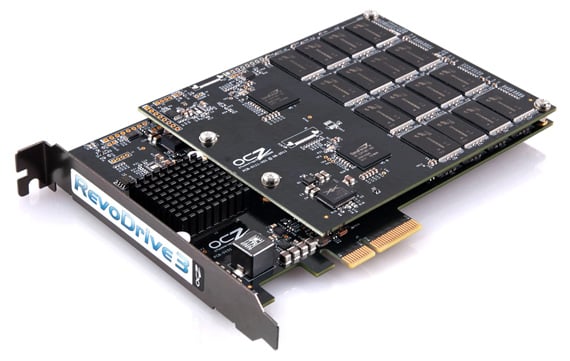 Reg Rating 80%
Price £570
More info OCZ
Patriot Pyro SE 240GB

Sitting between the high-end Wildfire and Wildfire SE series and the standard Pyro family, Patriot's Pyro SE drives are designed to offer a better price/performance mix. The Pyro SE ups the ante by utilising faster synchronous NAND flash rather than the cheaper, slower asynchronous flash that the Pyro range uses.
Both Pyro ranges and indeed the Wildfire drives use the SandForce SF-2281 controller.
 The flagship 240GB Pyro SE drive comes with quoted sequential read/write figures of 550MB/s and 520MB/s respectively. 
As with the standard Pyro, the SE version is also available in 60 and 120GB capacities and Patriot provide a 3 year warranty. It's an impressive performer too, but with a price to match.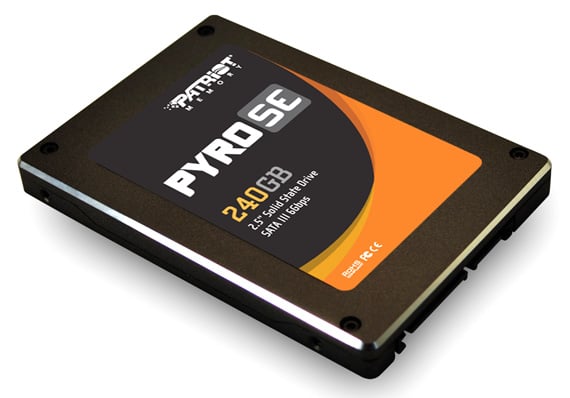 Reg Rating 80%
Price £280
More info Patriot
COMMENTS
Lies, Damn Lies, and Bad Benchmarks
I am appallingly disappointed. I would have thought that everybody with a grain of understanding would by now know that sequential I/O tests are meaningless and that random read/write (especially write on SSDs) IOPS are the only meaningful figure for assessing the performance of disks. This should be done with write caching disabled, and the amount of data written in such tests should be at least 512MB of 10x the amount of cache on the disk, whichever is greater (to avoid the disk faking it by lying about commits - which incidentally some SSDs even from reputable manufacturers do with write-caching enabled).
And yet we only get sequential read/write performance figures for these disks.
The second most important figure for a lot of SSDs is power usage. This has also not been measured, nor even the manufacturers' (usually highly questionable) figures provided.
Can this technical oversight please be corrected so that the review is actually meaningful?
And tape drive £/Gb are far cheaper still so clearly that's the way to go.
"You can be certain that Samsung will be tuning up its SSDs even more going forward,"
Is that the same as in the future?
The calorifica value of a GB.
Well AC, if your criterion is £ per GB then SSDs will probably never fit the bill. However, what you've chosen is the equivalent of how many calories can I buy for my £. As such, you are clearly going to be basing your diet based on the products of Greggs (or Taco Bell if you are a citizen of the US). That's wonderful if all you do is low-value, manual labour but some do more interesting things.
For those with more discerning tastes, who value their own time and the responsiveness of systems, well we will value something more than just how many calories we can buy. There's a bit more to a storage than how many GB I can have.
Dont ignore the older drives.
If you just want a cheap but roomy enough upgrade for an older laptop then the older SATA2 Sandisk Ultra 120GB that are going for around £65 are worth a look.
Still three times faster then the HDD you have in there at the mo. Made quite a difference to my old laptop.