Psst, want to make a killing? Flog clouds to small biz. Trust me
Enterprise-grade tech at non-enterprise prices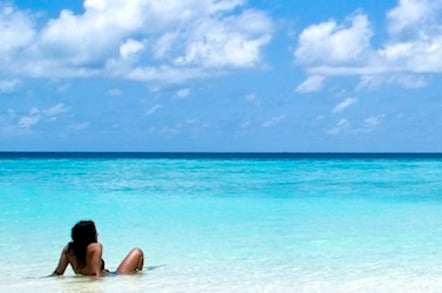 Analysis Unless you've been living in a supplies cupboard for the past year, you'll know that the buzzword de jour is cloud computing. It seems everywhere you look, somebody is promoting or trying to sell a cloud solution.
Ball gazers at IDC estimate that by 2020, the cloud will generate a worldwide services and enablement market worth somewhere in the region of $60bn (£38.9bn). That's a lot of money for what is effectively a bunch of pooled servers that allocate resources on demand to whatever work is thrown at them.
Numbers like these grab headlines and focus the minds of vendors and their channel partners who get the technology into users' hands. But that particular figure is barely one per cent of the $5 trillion (£3.2tr) worldwide IT market estimation for 2020 – that's a growth of $1.7 trillion (£1.1tr) on the market size today.
If we dive into that $60bn pot we can see that a decent proportion (say, 50 per cent) of this will focus on public cloud systems, which are set up and run by an organisation for others to use. This presents a golden opportunity for vendors and partners. Let me expand on my thoughts.
Think of a large multinational vendor with a channel strategy - I bet you could name a handful just off the top of your head. Now think of how they approach the market via a channel partner. Typically, the vendor will have a series of enterprise partners, and each of these will also have a multinational reach and customers with the big household names.
The next tier is made up of players who sell to mid-market and small-to-medium businesses (SMB). If we now look at where the most fertile partners lay for the vendors, it's typically in the mid-market and SMB sector, but why?
Well, enterprise customers tend to put out tenders, and this has the impact of driving down costs and driving up volumes. It also tends to attract lots of companies bidding for the same customers, which puts further pressure on margins. This is great for driving market share numbers, but it's not that great from an overall business viewpoint.
Our mid-market and SMB players tend to have smaller deals and, by their nature, they tend to be more profitable for the vendor. The downside is that due to market sizes, they are more numerous too.
So in my experience, the mid-market and SMB sectors tend to add substantially to the profitability of many technology vendors and their turnover too given the last few years of enterprise IT spending restraint.
Where does the cloud fit into this?
As I stated previously, expectations are that the public cloud adoption will grow as fast, or faster, than private clouds, the latter being large racks of expensive servers maintained by one organisation for its own in-house work. The public cloud, run by a big and experienced outsider, offers many benefits to a mid-market or SMB end-user. Typically, these smaller companies have limited or no onsite IT support.
As the world shrinks and becomes more competitive, it is increasingly important for these companies to have an enterprise-class infrastructure - but without the enterprise costs. This is exactly where the public cloud comes in.
These modest-sized businesses often have close relationships with their channels partners, and look to them as trusted advisers rather than mere box shifters, so it's logical that they will approach their reseller first.
Now consider the strategy of most of the vendors offering a cloud solution today: it's typically focussed on an enterprise customer and it's typically a private cloud.
Enterprise customers have ploughed huge sums of cash into internal IT and data centres as they adopt private clouds; IDC's research estimates that 80 per cent of these customers will have lots of onsite IT in 2020.
In addition, the vendors sign up enterprise-class resellers to sell their private cloud solutions, asking them to jointly invest in data centres and certification - both of which can be onerous for even the biggest players in the market.
So, currently we have a disconnect: the cloud technology vendors, who in the past have reaped the rewards of fruitful relationships with mid-market and SMB channel partners, are concentrating on the enterprise part of the market - which has not offered the best return for either them or their shareholders, generally speaking.
But what about the sweet spot in the channel - the mid-market and SMBs? Well, over the last few months a number of programmes have been rolled out to address their needs, some by some vendors although the vast majority are from distribution, cloud providers or aggregators of the various cloud technologies.
The trouble is that this is starting to make the market even more diverse than it was six months ago, and with diversity comes indecision - and that's not good for anybody in the market.
So my advice would be simple: let's come up with clearly messaged and packaged offerings that address all the sectors in the channel. By doing this, vendors stand a great chance of creating a vast market for their solutions across all segments. ®
Sponsored: Minds Mastering Machines - Call for papers now open