China a lover, not a fighter ... IN SPAAAAAACE
PRC wants 'sustainable common development' up there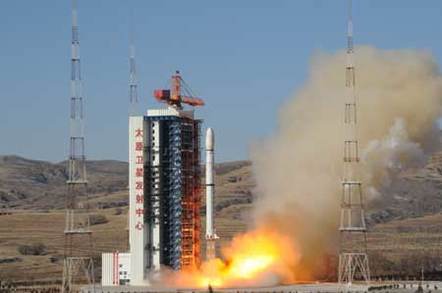 China has invited other countries to help it build its first fully-formed space station, in a bid to promote a more inclusive approach to the development of outer space.
Cheng Jingye, China's permanent representative to the UN, told a conference in Vienna that the People's Republic is committed to the peaceful use of outer space, Xinhua reported.
To be fair, he couldn't really say much else at the meeting of the Committee on the Peaceful Uses of Outer Space (COPUOS) in the Austrian capital.
Cheng's speech stressed tolerance, inclusivity, and "sustainable common development", according to the state-run news mouthpiece, not words one would normally associate with China.
To emphasise its commitment to these values in outer space, however, the ambassador said the People's Republic was open to collaboration with other countries on its Tiangong program, which aims to have a space station in orbit by 2020.
Taikonauts will be blasted up to man the first stage of the project, the Tiangong-1 space lab, later this year.
Cynics will be quick to point out that up until now, China's plans in space have revolved mainly around outmanoeuvring the US from a strategic military perspective.
To this end, it's establishing a network of "Earth observation" satellites and is close to completing the ambitious Beidou sat-nav project designed to provide an alternative to the United States' GPS system.
Independence from GPS could allow China to knock out the system, which the US army is still reliant on, in the event of a military conflict. ®
Sponsored: Minds Mastering Machines - Call for papers now open