HMRC Tax Calc
The money program
iOS App of the Week The Inland Revenue's latest on-line tax calculator fell flat on its face when it was launched last week – swamped, no doubt, by starving millionaires desperate to know how much their 5 per cent tax cut was worth.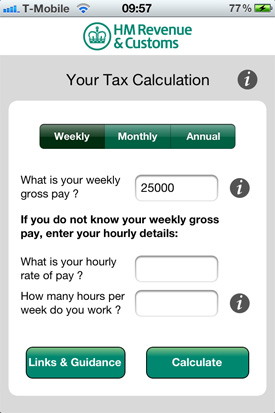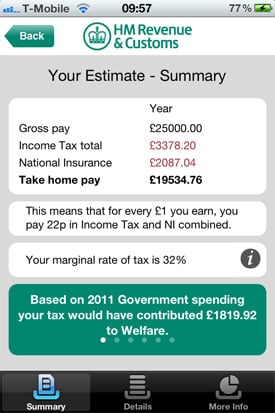 Quick input and summary calculation
And even when it was up and running again the on-line calculator didn't want to play nice with Safari on my Mac. However, the calculator has also been launched as a free app for both iOS and Android, and it's interesting to fire it up and get a quick breakdown of how your tax bill works out.
You can enter your salary or hourly rate, and then just hit the Calculate button to get a summary of your income tax liability, national insurance and final take-home pay – along with the life-sapping news that tax and national insurance together amount to a 'marginal rate' of 32 per cent even for basic rate taxpayers.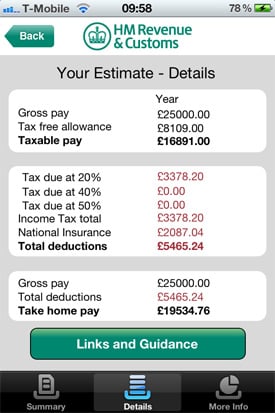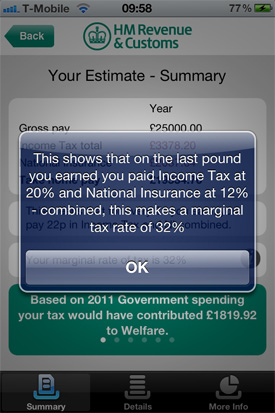 More detailed calculation and breakdown
If you want to know more, then the Details button drills a little deeper and provides additional information, such as your personal tax allowance and the amounts taxed at the 20, 40 and 50 per cent rates. And, just to make you feel better about your tax bill, there are a couple of pretty little pie charts that show how your money is being spent.
Some people might suggest that spending 33 per cent on unemployment and welfare and barely 5 per cent on 'infrastructure and industry' helps to explain the lack of growth in the UK economy. But hey, what do I know? I only live here.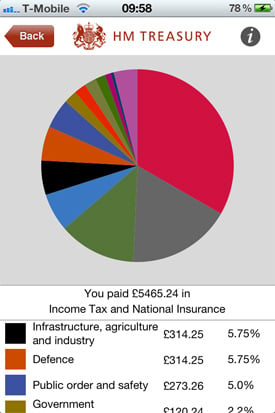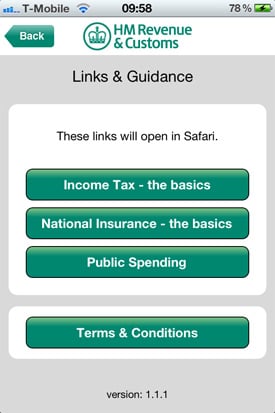 Where it all goes and external links
The app itself is pretty straightforward, but my main complaint is that it's primarily designed for employees on PAYE, with no option for self-employed people, such as myself, to deduct travel and other expenses. However, the app does provide links to the HMRC web site where you can get more info for self-employed people and small businesses.
Back in January, I was utterly traumatised by the task of filing my tax return on-line for the first time, and I would have liked to have had this app available back then. It won't do all the calculations for you – there are plenty of paid-for apps that can do that – but it does give you a useful starting point so that you can work out the key numbers that explain where all your dosh is going. ®
More iOS App of the Week Winners

Vyclone
Run, Zombies!
SoundBrush
SkyDrive
SnapGuide
COMMENTS
It should not have been done
The problem with the app is not that it isn't comprehensive, nor that whatever it cost to produce was four times what it should have, as the total cost was a very small drop in a very large bucket.
The problem is the underlying approach to expenditure which this app represents. It is another form of vanity publishing which one can find throughout sectors spending other people's money. Do they ever ask themselves the question "if it were my money, would I use it in this way?"
For example, a better calculator has long since been available here:
http://www.moneysavingexpert.com/tax-calculator/ and it didn't cost the taxpayer (including the ones that didn't want it in the first place) anything.
The Treasury expenditure options appraisal requires proper consideration of "do nothing" not that you'd notice.
And of course the IT crew would not be able to self-actualise at our expense by producing apps for the iPhone
Re: PAYE?
It is useful if you want to know how your salary will translate into money in your pocket if you get a new job, a pay rise, or start a new tax year in your current job and pay.
Going by the first image...
You make 25 grand A WEEK???????
What the shitting hell am I doing programming computers for when I can write some bollocks for a website and get my yearly salary in a WEEK?!??!
Employers NI
That marginal rate of 32% does not include Employers NI which is money that the company pays to the state on behalf of the employee instead of using it elsewhere such as paying it to the employee. So it's effectively part of the tax grab. That takes it up closer to 40% for basic rate tax payers.
Re: Employers NI
Ancient Oracle, perhaps you're the one showing naivety. We work so we can have goods and services. We use money so that we don't have to barter. The basic process is work - get stuff. The point is, how much of the stuff goes to the government, and how much does the worker get? You must include all the taxation points. The marginal rate is indeed 40% or so. But it's worse than that; when you buy your goods and services, there's 20% VAT to be paid. So in fact, the marginal rate at which the government taxes the benefits of your work is not 40%, but 52%.