Toshiba widens Ultrabook range
Cinematic outing
Toshiba revealed its Ivy Bridge hand this week, with the spotlight on the Satellite U840W, an Ultrabook with a cinema-savvy, 21:9 aspect super widescreen display.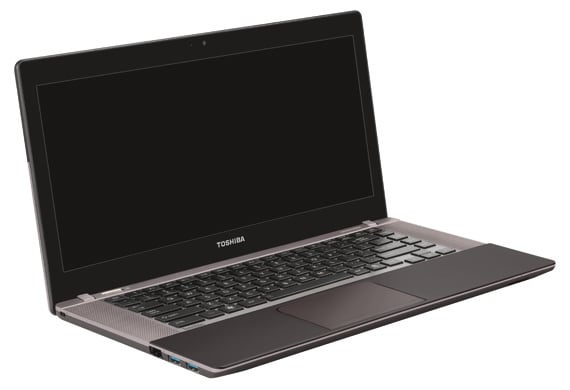 The Toshiba Satellite U840W boasts a 14.4in screen with a resolution of 1792 x 768 - specifications the company says are ideal for watching movies as content isn't sandwiched between black bars.
The 21:9 aspect ratio looks to be a compromise between the old Cinemascope and the more current Panavision viewing formats and has been featured on Philips' Cinema TVs for a while now.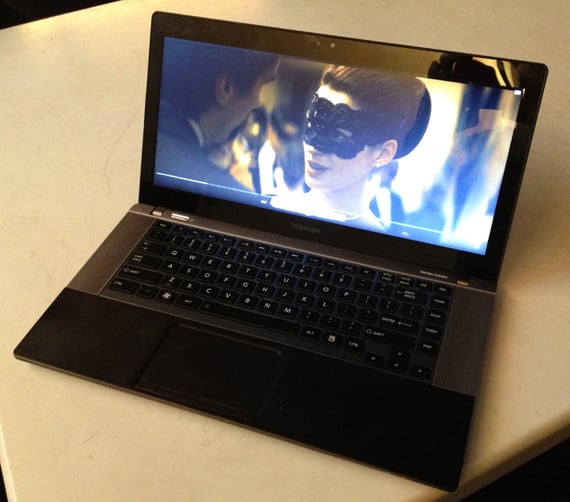 No black bars with this Dark Knight
As an Ultrabook, there's no optical drive either, so customers will need to rely on downloads and streams for their laptop movie setup, or an external disc spinner. As feeding a movie habit is unlikely to the primary use for a laptop, Toshiba has worked on slicing and dicing this screen real estate to enhance productivity.
The on-board split-screen utility, lets users divide the display into a 16:9 section alongside a 5:9 one. This is supposedly ideal for viewing documents side by side, or keeping an instant messenger application open down the right, while you work on your docs without an overlap.
The U840W packs the Ivy Bridge processor with up to 10GB of DDR3 Ram. A hybrid memory setup sees speeds improved thanks to the inclusion of a 500GB HDD and a 32GB SSD.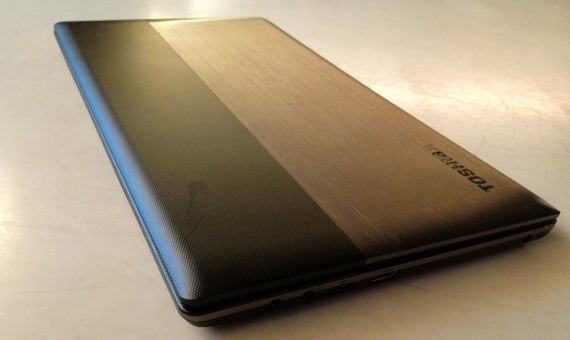 Other specs include three USB 3.0 ports, mini HDMI out and a memory card reader. There's also 802.11n Wi-Fi, Bluetooth 4.0 and Wireless Display technology.
The Toshiba Satellite U840W will be available from Q3 2012 for around £899.
Other Ultrabooks the company unveiled include the Satellite U840 and the Portégé Z935, which lays claim to being the world's lightest 13.3in Ultrabook, for the time being at least.
The Satellite U840 is essentially a stripped-down version of its widescreen brethren, with a 14in regularly-sized display and slightly less under the hood. While storage remains the same, Ram is limited to 8GB DDR3 and there's just the one USB 3.0 socket, with two USB 2.0 ports to make up the numbers.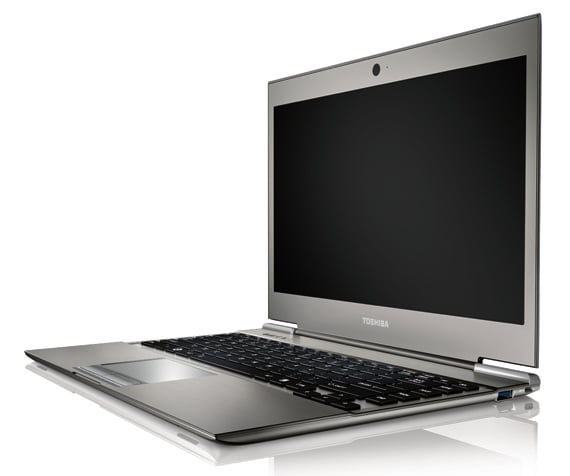 The Toshiba Portégé Z935 packs a 13.3in display with a resolution of 1366 x 768. It features up to a 512GB SSD, 12GB of DDR3 Ram and Intel HD 4000 graphics.
There is also a single USB 3.0 port, two USB 2.0s, HDMI and VGA sockets and an SD card reader.
The Toshiba Satellite U840 and the Portégé Z935 will be available from Q3 2012 for £599 and £899 respectively. ®
COMMENTS
Low definition displays once more
Yawn.
Wow
is this the most stupid laptop screen ever?
The aspect ratio is there for watching movies, not any movies but specifically ones that are 2.35:1.
Lets start with the aspect ratio, where is this content for 2.35:1 screens? Almost all content for small screen viewing is produced in 16:9. Films that are shot in 2.35:1 are delivered to your screen in inside a 16:9 letterbox. I'm guessing that if you take this laptop and go to watch a film on netflix or lovefilm you will get a letterbox at the top and bottom and pillarboxes down the side. A lot of content isn't even 16:9 it's 4:3 with a letter box so that will look even worse.
Then you have the bizzare resolution 1792x768, if you're watching 720p video then you have 1280x544 which will need to be upscaled to fit the screen, if you've found some 1080p content then that will be 1920x817 so it will need to be downscaled to fit the screen.
Nobody is going to buy this laptop, if they sell 100 I'll be amazed.
As for the other two offerings, so what.
I'm all for variety of screen ratio choice...
...but please make some laptops with taller screens as well!
It might not even be the wider screen ratio per se that doesn't agree with me, but that it results in the the top of the screen being further away from my eye line.
It's like Tosh read the Reg forums and then went and did the opposite.
Re: I'm all for variety of screen ratio choice...
I have to say I agree 100%.
My employer gives me a laptop for mobility and when I drop into an office, there is a monitor. First thing I do is turn the monitor through 90 degs so it is in Portrait mode. It makes such a difference for reading and writing documents.
A 21:9 aspect super widescreen display will be hopeless for actually doing an work on.....
Re: I'm all for variety of screen ratio choice...
14", no optical drive... "cinema savy". Search the error.