AMD and Intel extreme desktop CPU workout
Feel the burn
Extreme PC Week

Comparing high-end desktop processors that use the latest architecture from AMD and Intel these days, is a bit like comparing apples to walnuts. To pimp up a PC, there is only one company that really offers extreme processing power, and that's Intel. But it'll cost ya. In the extreme arena, AMD gave up arm wrestling with Intel a while back, however, the company has some nifty desktop CPUs that hit a price/performance sweet spot. So what can you expect to find from these two players if you want a desktop PC that packs a punch?
While the focus of late has been on Intel's recently launched Ivy Bridge architecture, at the time of writing, the really powerful desktop CPU's come from the company's Sandy Bridge E microarchitecture. Released before Ivy Bridge in late in 2011, the flagship Sandy Bridge E desktop processor is the mighty 6-cored Core i7-3960X Extreme Edition. If money is no object, then you've found your grail. Shop around and you're looking at just under £800 – a CPU that costs as much as a many a complete off-the-shelf powerful PC.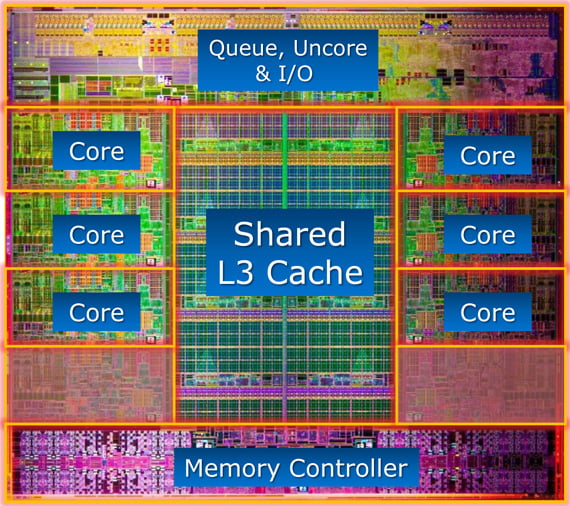 Intel Core i7-3960X processor die detail: note the two 'greyed-out' cores
Thankfully, there is a cheaper Sandy Bridge E sibling that shaves off around £300 from the cost. It's still an eye-watering £450 though, but the Intel Core i7-3930K retains those 6 cores and is undoubtedly quick. Consequently, it's become a firm favourite among boutique system builders to power their extreme PCs. More on this chip in a moment.
When it comes to offering something akin to Sandy Bridge E, alas, AMD has nothing that can match it, but it doesn't stop the company from hitting the headlines. In September last year, the AMD FX-8150 – the flagship CPU of the Bulldozer architecture line of processors – grabbed the Guinness World Record for highest CPU clock speed at 8.429GHz. Yet a glance behind this wonderful PR coup tells a slightly different story.
The machine only had to boot into Windows and allow the clock speed to be reported and, more importantly, it didn't need to fire up any applications or have all eight of its cores running. The world record speed was attained by a single Bulldozer module under the influence of some pretty heavy liquid helium cooling – so nothing like the real world then.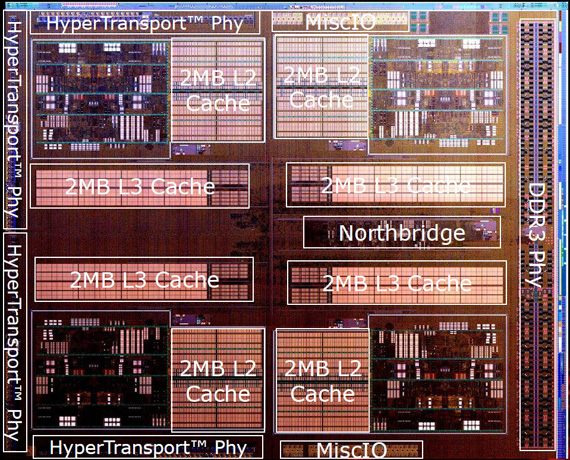 AMD FX-8150 processor die detail
Perhaps more telling is that at launch, the marketing suits at AMD had priced the eight-core, 3.6GHz FX-8150 at around £200. With Intel's Ivy Bridge not yet on the horizon, it was pitched at against the Sandy Bridge Core i5-2500K. Certainly the Core i5-2500K is a very good chip, but you wouldn't call it extreme by any stretch of the imagination.
Sponsored: Minds Mastering Machines - Call for papers now open