China and US argue over smog tweets
Brownout in relations over @BeijingAir feed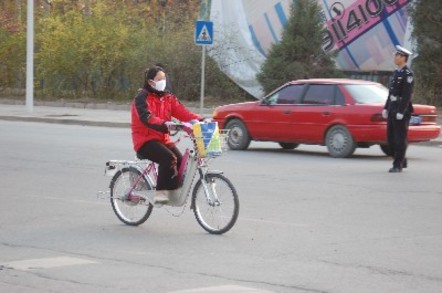 The Chinese government wants the United States to can a popular Twitter feed set up by its Beijing embassy to monitor air pollution in the crowded capital, after launching an indirect attack claiming such readings were illegal.
The US embassy's @BeijingAir account is followed by over 20,000 people on Twitter and provides hourly updates on the air quality in the capital thanks to its MetOne BAM 1020 and Echotech EC9810 monitors situated on the roof.
Specifically, the monitors provide ozone and PM2.5 readings, the latter referring to particulates of less than 2.5 micrometers which, when they make their way into lungs and arteries, can cause potentially life-threatening illnesses.
It's no secret that Beijing is frequently cloaked in a thick brown blanket of smog, greatly reducing visibility on bad days. At the time of writing, for example, the @BeijingAir feed reads "very unhealthy".
By 2016 the Chinese government will require that PM2.5 concentrations are kept below 75 micrograms per cubic meter on average per day, while the US Environmental Protection Agency's standard is a much more rigorous 35 micrograms.
No surprise, then, that reports suggest Beijing-dwellers feel 'official' pollution levels are usually under-stated, and it looks as if China wants to keep it that way.
Deputy environment minister, Wu Xiaoqing, told a news conference on Tuesday that readings from foreign embassies in the city were illegal and should stop, according to Reuters.
"According to the Vienna Convention on Diplomatic Relations ... foreign diplomats are required to respect and follow local laws and cannot interfere in internal affairs," he added.
"China's air quality monitoring and information release involve the public interest and are up to the government. Foreign consulates in China taking it on themselves to monitor air quality and release the information online not only goes against the spirit of the Vienna Convention ... it also contravenes relevant environmental protection rules."
Now China only recently decided to release figures for PM2.5 levels, which in itself is a step in the right direction, and has announced ambitious plans to cut factory and car emissions and river pollutants over the coming years.
It also argues that the US embassy reading from one location in a city of over 6,400 square miles cannot be entirely accurate.
Given that the embassy feed is on Twitter, which is banned in the People's Republic anyway, the readings stand little chance of reaching the populace at large and so it would be unusual if the Chinese authorities decided to pursue the issue any further. ®
Sponsored: Minds Mastering Machines - Call for papers now open