Apple seeks resurrection of HTC importation ban
HTC: 'We fixed it.' Apple: 'No, you didn't'
Again adhering to the Cupertinian creed that "the best defense is a good offense," Apple has filed its third complaint against Taiwanese smartphone-maker HTC at the US International Trade Commission (ITC), citing patent infringement and requesting a bar on a welter of HTC devices from being imported into the US.
The patent that Apple accuses HTC of infringing? Well, as the oft-quoted sage Yogi Berra would have put it, "It's déjà vu all over again." The complaint cites US Patent 5,946,647, the same patent that was one of the two the ITC ruled last December that HTC had infringed among the two dozen or so that Apple had complained about back in March 2010.
That December ruling led to HTC phones being temporarily held up at US ports last month, though they were cleared after U.S. Customs determined that the infringing feature had been removed – presumably, much to Apple's displeasure.
The feature in question – what has become known as "data-tapping" – involves techniques for parsing strings such as telephone numbers, email addresses, URLs, and the like, and then offering users a set of appropriate actions to perform based on the content, such as making a phone call, opening an email app, or launching a webpage.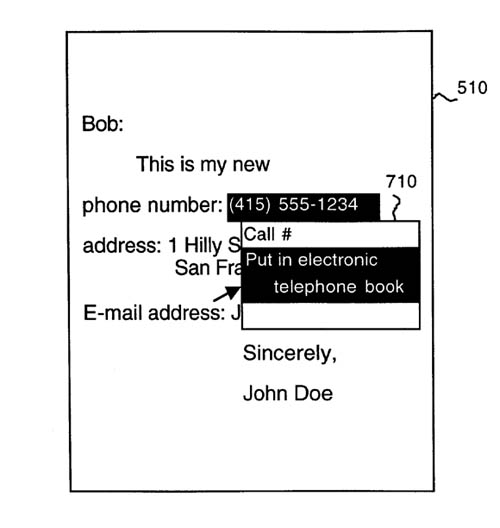 US Patent 5,946,647, as illustrated in the filing, covers recognizing strings and suggesting uses for them
HTC says that it has developed a workaround in its Android-based operating system that no longer infringes on the data-tapping patent. Apple, apparently, disagrees.
According to FOSS Patents, 29 HTC devices are cited in Apple's new ITC complaint, and Apple is asking for emergency action to ban their importation.
This latest move against its Android-based competition underlines yet again that even under supposedly kindler, gentler CEO Tim Cook, one of Apple's key competitive strategies is the tactic that inspired actor and musician Jack Black to name his band "Tenacious D". ®
Note to our non-stateside readership: Mr. Black's band is named after a sporting apothegm common among American basketball aficionados which refers to the robust application of defensive methodologies.
Sponsored: Minds Mastering Machines - Call for papers now open