Marathon
Halo's forerunner
Colony ship for sale
But what a plan for freedom. Lure an empire of slavers, the Pfhor, to the Earth ship in the knowledge they will bring with them members of a cybernetic servitor race, the S'pht, who alone possess the ability to free you from your mainframe shackles. In return, you must release them from their servitude. The only way to do that: defeat the race that brought them here. Which is where the player comes in…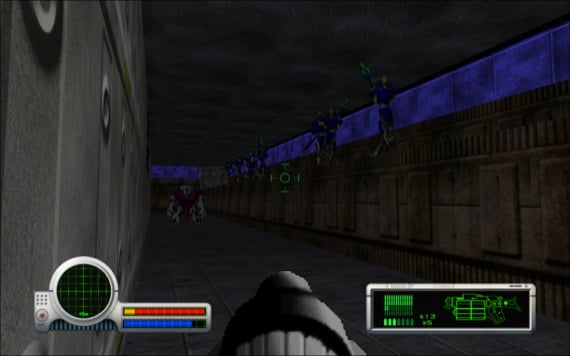 Here be monsters
You, the UESC Marathon security chief, first commanded to fight off the invaders by one of the two other AIs, Leela, a task that initially sees you beaming from level to level within the vast starship seeking bigger, better weapons.
And ammunition. No colossal magazines here, but, at best, 32-shot clips that could be emptied in seconds during a pitiless firefight leaving you vulnerable which you slapped in a new one. Combat required a tactical awareness of how you could use the environment to your advantage. Where were the best defensive positions to fall back to? Where is the nearest shield regeneration station.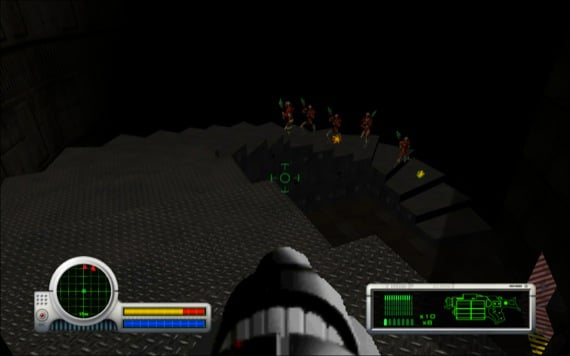 Step up to the plate
There were no medpacks scattered around, and when games could only be saved at specific computer terminals, you couldn't always afford to go in all guns blazing.
The need to conserve ammunition and play it cautious differentiated Marathon from Doom's blast-away frag-fest. So did the light-relief NPCs: the BoBs - guys Born on Board the colony ship, some converted into living bombs by the Pfhor.
Panicking canon fodder in the first game, the BoBs would gain weaponry and an attitude in the sequel. Shoot too many of them and they'd start shooting back...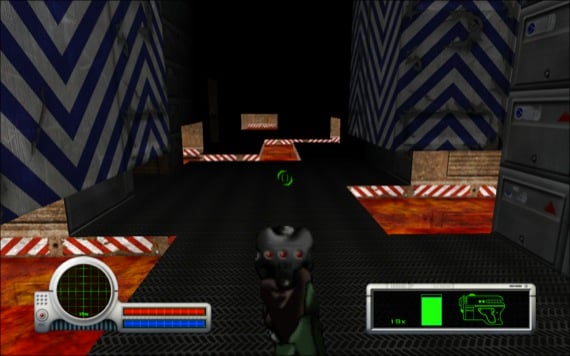 Glow forth
The mission parameters were basic, with circuit boards and other doohickeys standing in for Doom's colour keys, and while Bungie threw in a hard vacuum level - which also introduced the alien Hunters, prototypes of the armoured beasties known to all Halo players - it was the only one. Still, the levels set on the Phfor fleet - shades of Truth and Reconcilliation almost a decade ahead - with their dark areas and eerily glowing slime made for incredibly atmospheric gameplay.
The Marathon trilogy - Marathon, Marathon 2: Durandal and Marathon Infinity - remain among the best lit games of the mid-1990s. Today, with its aged 8-bit textures replaced by HD redraws courtesy of the long-running Aleph One project, it's every bit as good as it was. Only the engine limitations long since overcome - it uses sprites for characters and kit, not 3D models; there are no slopes, Bezier curves or bump maps; the player can't jump or duck; there are be only two textures per wall surface - show its age, but its gameplay and engaging storyline remain as fresh as ever. ®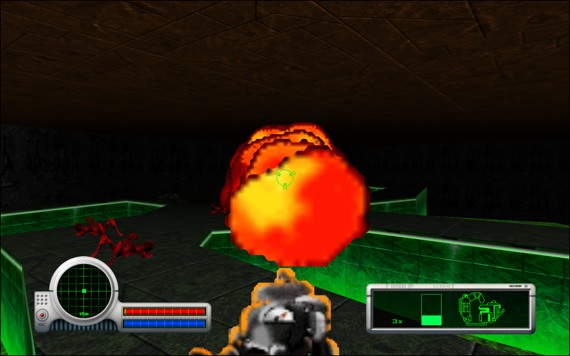 Fire in the hole
The Marathon series was open sourced at the turn of the century. Since then the Aleph One have coded it for graphics cards and modern operating systems, including Mac OS X, Linux and Windows. It is also available for the iPad and iPhone.
Developer Bungie
Publisher Bungie
Release Date December 1994
Platform Mac
More Retro Games

Return to Castle
Wolfenstein
Head Over Heels
Ten... 8-bit classics
Carmageddon
System Shock
Sponsored: Minds Mastering Machines - Call for papers now open