OCZ RevoDrive 3 X2 240GB PCI-E SSD
So long, SATA
Sandforce sandwich
The problem with original setup was that the RAID controller wouldn't let commands pass that looked after NCQ and TRIM, amongst others. By using the VCA 2.0 layer, the drive appears as a single device, not four, which allows TRIM, NCQ and SMART support to be implemented.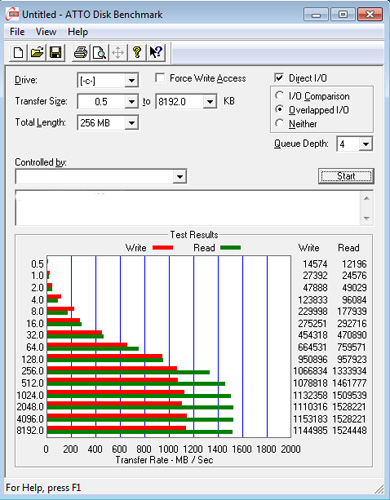 ATTO benchmark results
However, there's a very big fly in the ointment. Admittedly it won't concern everyone, but here goes... The VCA technology comes from the domain of the enterprise segment, hence it's programmed on SCSI. And yup, you've guessed it, Windows StorPort architecture doesn't currently support the SCSI UNMAP or TRIM functions.
So while the drive supports these operations, Windows 7 cannot generate the commands to make them work. What's needed is an update to Windows to allow this to happen. But not to worry, the RevoDrive still delivers without these niceties but you do need to be running a Windows 7 machine.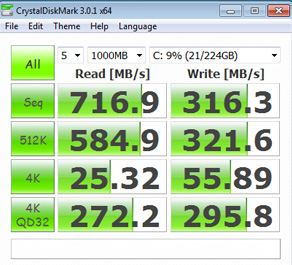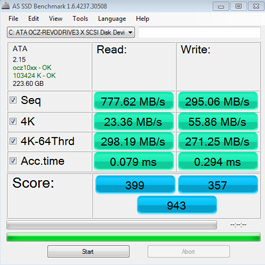 CrystalDiskMark and AS SSD benchmarks
The drive I'm looking at here is the RevoDrive 3 X2 240GB. Imagine two 60GB OCZ Agility 3 drives taken out of their case and mounted on a PCB including both controllers and then have the same again on the daughterboard. You end up with a drive with four Sandforce SF2281 controllers looking after it – yes, four controllers – running in a parallel RAID array, which helps to explain the astonishing quoted maximum read/write figures of 1500MB/s and 1225MB/s, respectively.
The drive fits into any PCI-E x16, x8 or x4 slot although it only runs at x4 electrically. Even so, that is enough theoretically for up to 2GB/s of bandwidth usage which gives you an idea of the potential of using the PCI-E slot.
To instal the drive as a boot device isn't quite as simple as plugging in a standard drive in. The drivers need to be on a USB stick to allow Windows to access them during installation, but after that it's plain sailing. Once installed, the boot time for the PC does increase slightly, as there is another status screen in the boot sequence to get past. Once the BIOS had finished loading, the drive took just 10 seconds to get to a Windows desktop.
OCZ's claimed performance figures hold out pretty well when benchmarked using ATTO, delivering a 1526MB/s read and 1144MB/s write. Needless to say, these are the fastest ATTO results I've seen from any drive I've tested by a country mile. However when it comes to handling incompressible data – the Achilles heel of Sandforce controllers – things are a bit different. The AS SSD benchmark produced sequential Read/Write scores of 777MB/s and 295MB/s, respectively.
Iometer Benchmark Comparison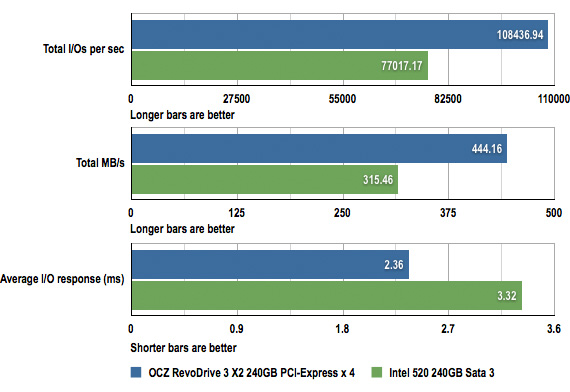 Yet when the drive is put under some serious loading, it really begins to show what it's made of. For this I used the Iometer benchmark and used a 8GB LBA/sector test to simulate a 100 per cent random write access over 8GB of O/S, which is a heavy and very stressful workload for a desktop environment. It's more akin to what you might encounter in workstation tasks, which is the market segment that the drive is really aimed at.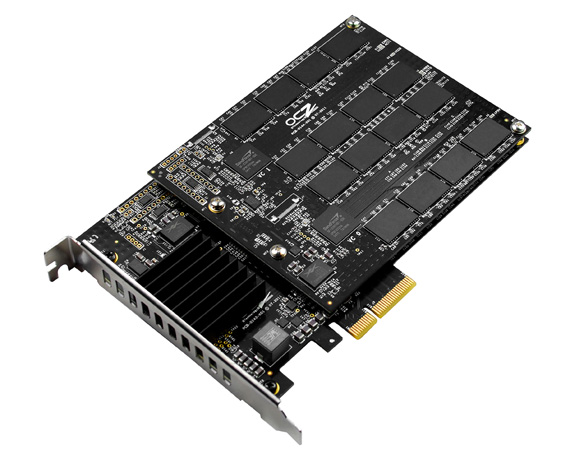 Sata high speed bypass, anyone?
I compared the RevoDrive 3 X2 240GB with the 240GB version of Intel's latest 520 series Sata 3 drive, which also uses a SandForce controller. As you can see from the Iometer benchmark graph above, the difference between the two drives is certainly striking.
Verdict

The OCZ RevoDrive 3 X2 is a stunningly fast SSD with a price tag to match. If money is no object and you need the fastest storage, around then look no further. ®
More SSD Reviews

Intel 520
Samsung 830
Kingston
Technology
HyperX
SanDisk
Extreme
Crucial M4
Sponsored: Minds Mastering Machines - Call for papers now open

OCZ RevoDrive 3 X2 240GB PCI-E SSD
Super-fast performing drive aimed primarily at workstation and power users, that dances around the current SATA interface limitations.
Price:
£570 (240GB), £1350 (480GB), £TBA (960GB) RRP