Facebook testing "announce important post" feature
UPDATE: Facebook confirms Reg reader's "make sure friends see this" find
Facebook has confirmed it is trialling a feature that would allow users to shove posts into friends' faces make sure their posts are seen by all their friends.
Reports of a similar feature emerged last May, when Facebook trialled a paid post-highlighting service in New Zealand.
Reg reader Andrew N Green from Adelaide has just spotted something similar, depicted below: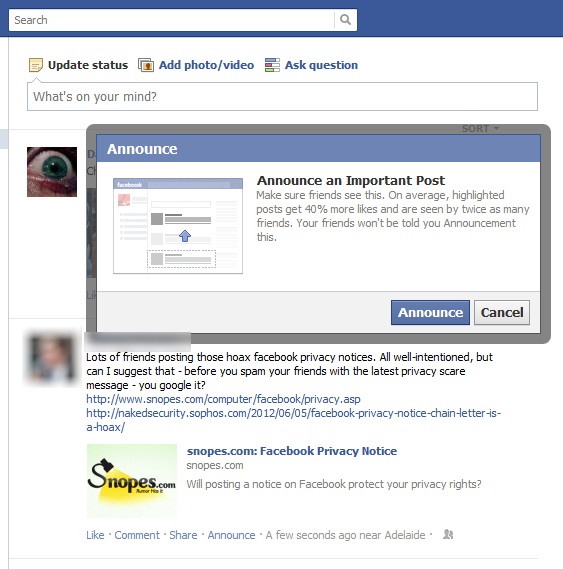 Andrew says the feature worked like this:
After I posted, the option came up next to Like * Comment * Share. It said "Announce" and had a little yellow highlight that faded off it. I clicked it, which brought up a dialogue box saying that, if something was important, I could elect for all of my friends to see it. Some of the text in the dialogue box was a bit garbled - it said "do you want to Announcement this post", for example - so it looks like a feature in beta
The results of that process look like this: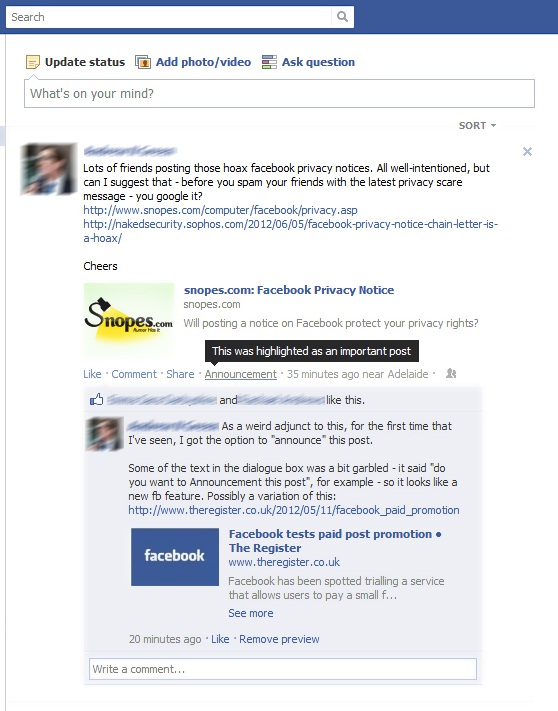 We showed Facebook Andrew's screenshots and it replied, through an Australian SpokesFriend, that "We're constantly testing new features across the site. This particular test is simply to gauge people's interest in this method of sharing with their friends. ®
Sponsored: RAID: End of an era?