El Reg's GAGA robot lawn-slasher loses its mind. For now
Credo: Things you can't do from the pub aren't worth doing
OK so technically it's not autonomous. And, yes, you could quibble that it doesn't cut any grass as such. But it's got a camera!
The motors and wheels, came from the nice chaps at Mindsets (£1.85 a pop). We didn't worry about steering for this test, though left and right wheels are on separate relays so some basic navigation is possible and it proves that the mechanism will work.
Scaling up the test should be simple enough, bigger motors (and proper motor controllers) won't sit well on hardboard so we've acquired some 20mm steel square tube to build a framework and will be taking on the welding challenge in the next week or two, but the real question is if we can fit everything necessary onto a frame small enough to remove the necessity for edging.
Robot lawnmowers don't do edges, on our recently-deceased stalwart (Mowbot) the 30cm blade is centrally mounted while the robot is a good 50cm across, leaving a 10cm of grass around the edge of the lawn which has to be finished by hand: clearly unacceptable.
30cm is as large as a blade can conveniently be (without fabricating our own), and the blade will need some sort of cowling both to direct cut grass back into the blade and prevent wayward toes going amiss, but the question is if we can fit the required electronics into a robot only 30cm across. We don't have pretty 3D modelling software, but we do have a very old copy of Viso which shows it's possible, even if it can't reveal the practicality of such a plan: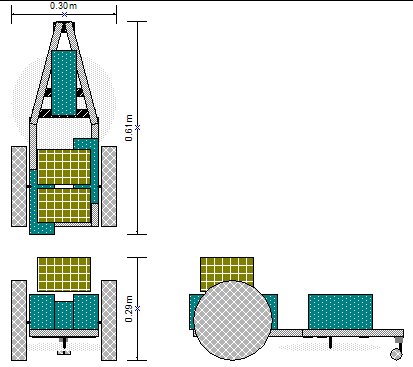 The motors are greenish, the browny blocks are batteries and Visio has a really-strange colour palette. That's all the big parts, but we've still got to fit in the radios and relays, the motor controllers and the camera - it all fits into the space, but it is a a squeeze. We could make GAGA rectangular, adding another castor on the new corner, but it won't look so good and it won't add a lot of space.
The question is if this design makes sense, if we'll be able to fit our electronics package in there once all the wires and bits are included, and if we've missed anything really obvious we should be considering before dusting off the welding kit.
Gaga has a new forum now, of her very own, so head over there for a discussion. ®
Sponsored: Minds Mastering Machines - Call for papers now open