SpaceX Dragon freed to push off home
Cargoship detaches from ISS and tootles towards Earth
The Dragon is free of the International Space Station as it prepares for splashdown this afternoon around 17.40 BST (9.40 PDT, 12.40 EDT).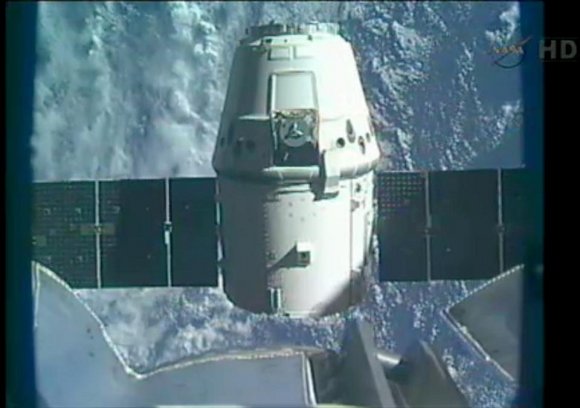 The Dragon leaves the ISS. Pic credit: NASA
SpaceX'S history-making cargoship has successfully detached from the Canadarm, the mechanical arm which pushed it out from the station, and burned its thrusters to move away from the station.
In around six hours, Dragon will fire its Draco thrusters for the deorbit burn, before jettisoning the trunk, and then deploying its parachutes to land in the Pacific Ocean.
Dragon spent two weeks docked with the ISS so that the crew could unload the cargo it brought and reload it with science experiments and cargo that should survive re-entry to be fished out of the sea.
SpaceX will use a 185ft (56.4m) working barge equipped with a crane, an 80ft (24.4m) crew boat, and two 25ft (7.6m) rigid hull inflatable boats to pick up the Dragon. About 12 SpaceX engineers and technicians as well as a four-person dive team will also be onboard. ®
Sponsored: Minds Mastering Machines - Call for papers now open