Panasonic DMC-GX1 compact system camera
Micro Four Thirds maestro
Pancake recipe
With the tiny new zoom fitted, the GX1 slips easily into a coat pocket and becomes a very flexible take-anywhere camera. APS-C based cameras, such as Sony's NEX range may offer much smaller camera bodies, but the lenses are necessarily much larger, making them more bulky when fitted with a zoom. The GX1's larger body, but more compact overall kit size makes for much better handling.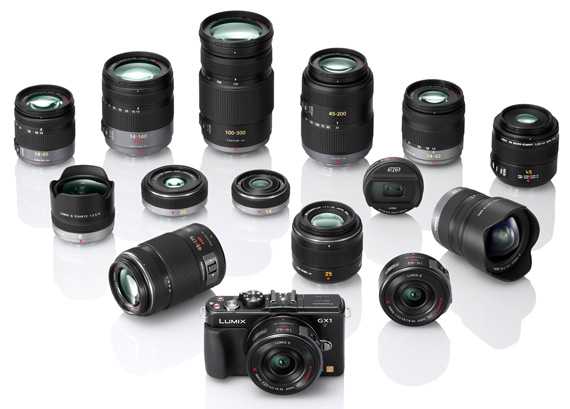 A full family of lenses and compatible with other MFT makers
The GX1 delivers significant refinements over the GF1, with its ISO sensitivity now extending as high as 12800. It also does a pretty good job even at this high sensitivity and is a vast improvement upon the previous generation Micro FourThirds cameras. Despite its relatively small sensor – when compared to DSLRs and APS-C compacts – the results were impressive. Exposure was handled well both indoors and outdoors, and the auto white-balance did a good job of rendering colours faithfully under a variety of lighting conditions.
Even with tricky exposures, the GX1 rarely put a foot wrong. Difficult scenes such as backlit naked branches backlit or the subtle shades of clouds against a grey sky were most often rendered without any loss of detail due to overexposure provided the ISO setting was kept low enough.
There's plenty of competition for the LumiX DMC-GX1 from other vendors, but perhaps the biggest threat comes from Panasonic's own Lumix DMC-G3. It's physically a little larger, but features an almost identical image sensor and broadly similar features minus a few physical controls. Lest we forget, Panasonic has recently unveiled the DMC-GF5 – a revamped DMC-GF3 with full HD video capture.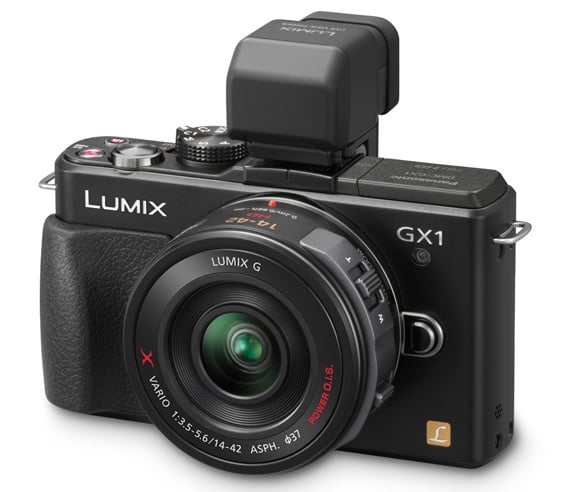 The DMW-LVF2 electronic viewfinder is a useful but costly extra
The DMC-G3 also costs less yet comes with a fully articulating screen, and that expensive electronic viewfinder is already built in. If you don't need the articulated screen, the GX1 is clearly a better camera but the DMC-G3 is much better value for money. Indeed, this is no cheap alternative to a DSLR, this is a serious camera which costs serious money if you kit it out with the best lenses and accessories – indeed these pricey extras do impact on the overall rating here. For instance, the optional DMW-LVF2 electronic viewfinder will add around £230 to the cost of the camera. And if the EVF and compactness is important to you, then there's always the Nikon One V1 for about the same price as the DMC-GX1 without the DMW-LVF2.
Verdict
If you loved the GF1, the GX1 could be exactly the camera you've been waiting for. Its superb build quality and ergonomics are matched with speedy performance and excellent image quality. It's a little unnecessarily complicated to use and could do with a few more operational hints from the screen, but put in a little time with the manual and you'll reap great rewards. Save a few quid and buy the lens kit with the new Lumix X 14-42mm zoom and you have a very flexible, pocketable camera with superb control and performance. ®
More Compact System Camera Reviews…

Sony
NEX-7
Pentax
Q
Olympus
PEN Mini
E-PM1
Samsung
NX200
Nikon
1 V1
Sponsored: Minds Mastering Machines - Call for papers now open

Panasonic DMC-GX1 compact system camera
Enthusiast appeal Micro Four Thirds compact with a comprehensive array of physical controls and a touchscreen to boot.
Price:
£580 (body only), £760 (Lumix G X Vario PZ 14-42mm lens kit) RRP