Panasonic DMC-GX1 compact system camera
Micro Four Thirds maestro
Artificial intelligence
I wouldn't expect an enthusiast camera such as the GX1 to bother you with patronising levels of help and guidance. You know what aperture and shutter speed do, so you don't want pretty pictures to show you how to use them. However, when it comes to some of Panasonic's own features, that may be less familiar, the total lack of on-camera guidance can be somewhat frustrating.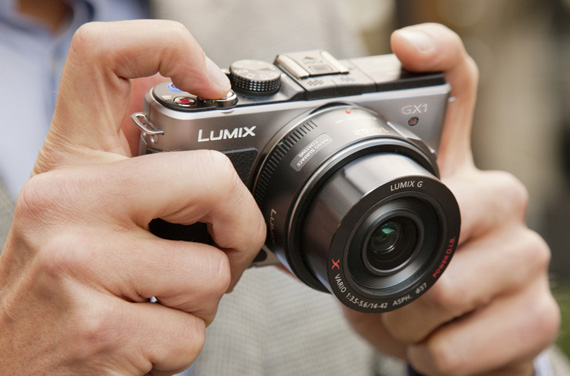 Handles nicely and performs swiftly
Even the fully-automatic 'Intelligent Auto' mode has an 'Intelligent Auto+' option, but what does this do? Does it make the camera even more intelligent? If so, why would you ever use the less intelligent version? The answers to this kind of question lie in the PDF manual on one of the accompanying CDs, but no doubt enthusiasts will have pored their way through every detail before venturing forth.
And if you're curious, Intelligent Auto+ option adds a little more manual control to the standard version, allowing you to tweak the colour balance and brightness of your image, while leaving the camera to get on with making all the other more complex decisions.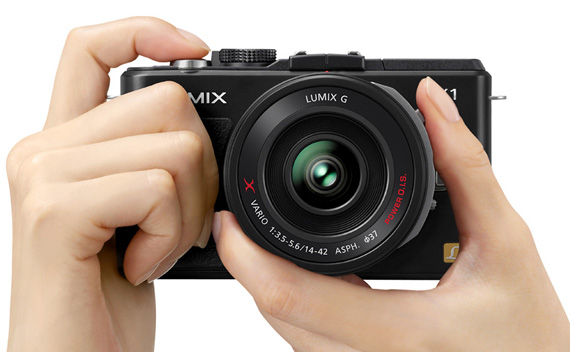 Intelligent Auto or Intelligent Auto+ – which is the cleverer?
As with previous Panasonic models, Intelligent Auto mode is accessed from a dedicated button which lights up bright blue to alert the world to the fact that you don't know how to work your camera. Or, perhaps you're simply using it to grab a quick opportunistic shot before returning quickly to your customised settings at the touch of a button.
Of course, there's also full manual control along with the usual shutter and aperture priority modes. Seventeen scene modes are included, along with eight expressive effects modes. You also get immediate access to important functions such as exposure compensation and a moveable live histogram. Two custom modes are included for you to save your favourite settings.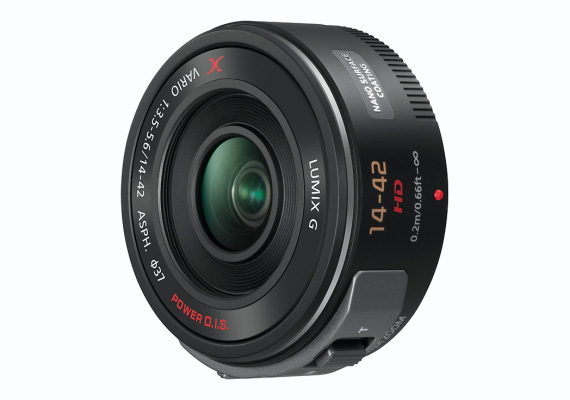 Kit lens: Lumix G X Vario PZ 14-42mm/F3.5-5.6 ASPH/Power O.I.S
The review model came fitted with Panasonic's new Lumix G X 14-42mm motorised zoom lens. Described by the vendor as a 'pancake zoom' it collapses down to a size almost as small as Panasonic's 20mm f1.7 prime. While included in the kit price, bought separately the new lens does come at a considerable premium over the larger standard zoom lens, setting you back around £370.
Even so, the new 14-42mm pancake zoom lens is a great match for the GX1, delivering a very useful zoom range in a surprisingly small size. The motorised zoom is handy, but the motorised manual focus button is somewhat slower and less accurate than simply grabbing and twisting a focusing ring directly. It has a minimum focusing distance of 20cm which is considerably closer than the 30cm of the cheaper standard version, but these desirable, yet relatively minor, advantages come at a cost that many will find hard to justify.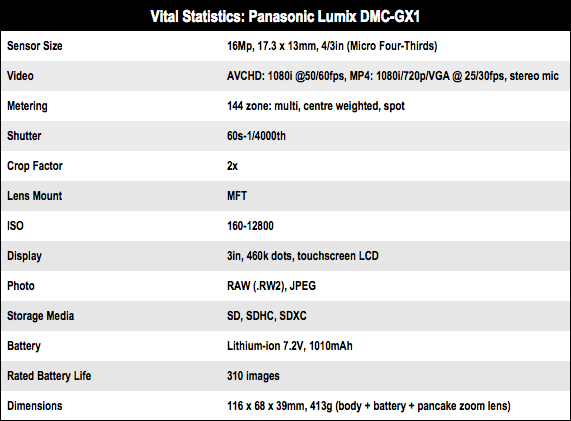 Sponsored: Minds Mastering Machines - Call for papers now open