Space Station crew enter the Dragon
Pop the hatch, get blast of 'new car smell'
Pic The crew of the International Space Station cracked open the hatch of the SpaceX Dragon cargoship to see what's inside - after the docked capsule was declared safe for them to step in.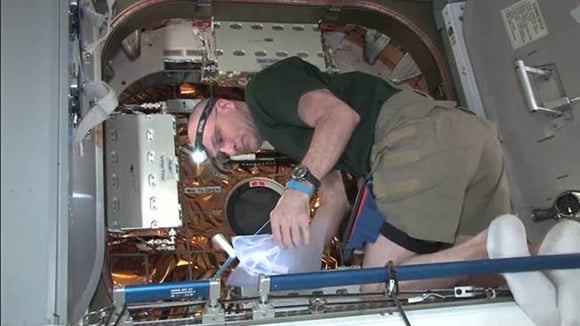 Don Pettit prepares to unload the SpaceX craft
Astronauts Don Pettit and Oleg Kononenko entered the Dragon at 9.53am GMT on Saturday wearing the customary protective masks and goggles just in case the unexpected happened.
The crew is now in the process of moving 1,000lb of cargo from Elon Musk's privately funded craft onto the space station, before reloading the ship for its return flight to Earth.
Once they were inside, Pettit had another witticism to commemorate the moment: he quipped that Dragon had that "new car smell". He already got off a cheesy one-liner on Friday when the Dragon made history as the first commercial cargoship to be captured by the ISS.
"Looks like we've got a Dragon by the tail," he said.
Dragon is due to spend about two weeks attached the space station, after which the crew will manoeuvre it out to the 10m release point and let it return to our planet's surface.
NASA and SpaceX have crossed their fingers for a smooth reentry and splashdown in the Pacific Ocean so they can retrieve the 1,400lb of return cargo and science experiments the crew is currently piling on. ®
Sponsored: Minds Mastering Machines - Call for papers now open