Sony KDL-55HX853 55in 3D LED TV
Flagship Bravia with the Olympics in mind
Review The 55inch KDL-HX853 is currently the highest ranked of Sony's 2012 TVs. It heads up a new Spartan range from the brand intended to rebuild its TV fortunes. Interestingly, it doesn't come laden with features seemingly pulled at random from a brainstorming session down the local Karaoke; which means it's not competing directly with Samsung's massively-pimped ES8000 models, and as a consequence it's considerably cheaper, at around £1,800. It is, however, comparable on style and packs Hubble-grade image enhancement.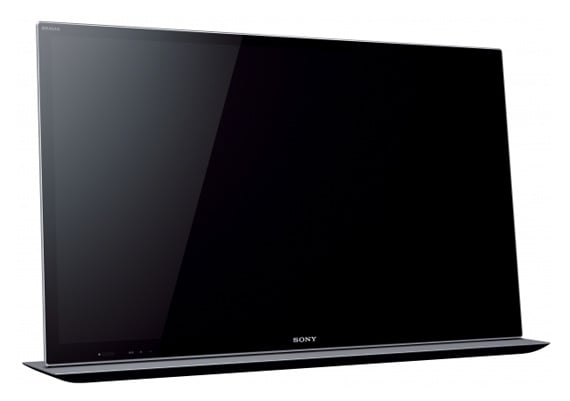 55in flagship: Sony's Bravia KDL-55HX853
Smart connectivity is the key feature on this set. Sony has long offered a wide selection of streaming video services, via an interface the kind might describe as cumbersome. But the HX853 heralds a new look for the rechristened Sony Entertainment Network, with apps, IPTV and music now navigated via a slick-looking Metro-style UI.
It's here that you'll find the latest iteration of BBC iPlayer, plus YouTube, Demand 5, LoveFilm, Netflix, Crackle, Skype, Mubi and Muzi, amongst others. The brand has also joined the apps race, having inked a deal with Opera to supply causal games and sundry trivia via the integrated Opera TV Store.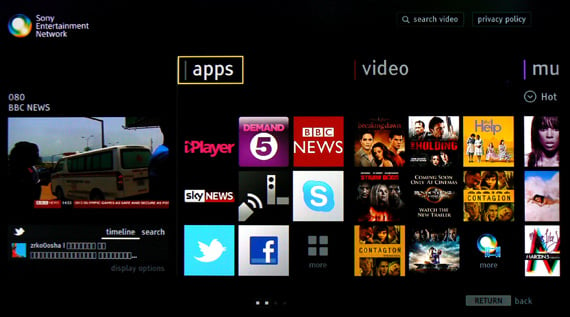 Sony Entertainment Network portal
Network media compliancy is unchanged from the brand's 2011 TVs. There's no support for MKV from either USB or NAS across a LAN, but AVI, MOV, MP4 files play. Audio covers MP3 (with album art), AAC, WMA and WAV. To ease playback problems, Sony offers a DLNA application for PC and Mac called Homestream, which performs on-the-fly file conversion for connected devices when required. The catch, of course, is that you'll always need this PC on.
Fresh for 2012 is a Wi-Fi Direct mode. This supports a local connection with compatible gear. I paired the TV with the Sony Tablet S and was soon throwing JPEGs from tablet to big screen – a very cool feature.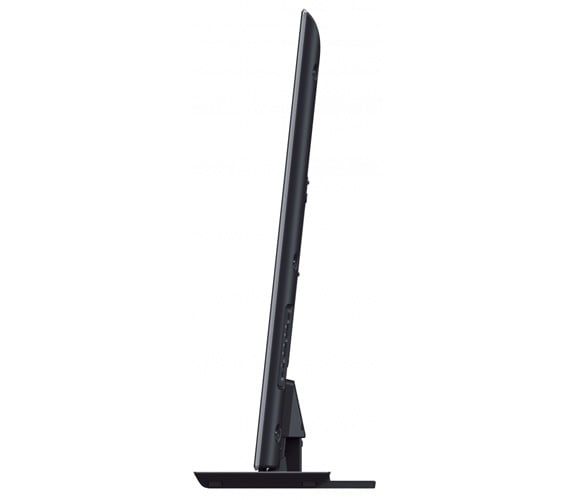 Stand up routine
The HX853 has a surfeit of picture quality controls, including multiple Motionflow modes able to drive its 200Hz panel up to 16x the native refresh rate. Without Motionflow doing its magic, perceived moving resolution falls to around 600 lines; with Motionflow switched on (regardless whether you choose Clear, Clear Plus, Smooth or Standard), moving clarity snaps back to Full HD.
A trio of techniques are used to achieve this: frame insertion, backlight blinking and Image Blur reduction.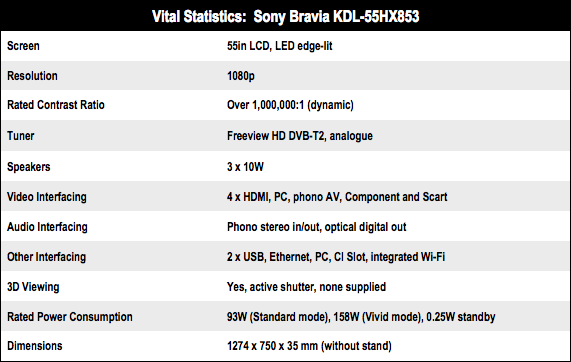 COMMENTS
LED TV for £1800?
This is an LCD TV which uses LED for its backlight. When a 55inch proper LED TV is available for £1800, that will be genuinely interesting news.
Re: ... and the verdict of the User Interface jury is...
I'm not saying Sony's TV UI is perfect, I have many complaints about the 2011 models and argued about many things in their development and did fight many battles for minor improvements, some of with were won. However your specific complaints are either wrong (resolution) and/or misguided (PIP). I also believe that the Sony TVs and remotes are easier to use than at least the 2011 Samsungs or Panasonics. I haven't tried any of the companies 2012 models but I use to dislike their remote controls and find them hard to navigate.
Regarding resolution for at least the past few years there has been an aspect ratio button on Sony remote controls. TV screen with horizontal and vertical arrows across it is the symbol. This is of decreasing importance now because 14:9 is used less often and more content is correctly flagged so with the TV settings right
If you actually mean a screen resolution button I don't understand you because that isn't something the TV can change. It takes an input and displays it at the resolution of the display with whatever scaling and processing is required. During online video playback there is an option to reduce the size of the video playback to make truly dire quality footage bearable but I don't think you meant for viewing in small window in the middle of the screen.
Picture in picture is found in the options menu at least on the 2011 models but I think also many earlier ones under 'Twin Picture'. This is very much a minority feature (most people never use it and I use to have figures to prove it) and fairly accessible. 'Options', 'Down arrow' * 5, 'OK', 'OK' for Picture and picture or 'Options', 'Down arrow' * 5, 'OK', Down arrow' 'OK'
Re: Backlit - Edge or direct?
I was not involved in this generation of Sony TVs but I think that the direction was towards edge LEDs but with zonal light guides so that local dimming was still possible. The number of people prepared to pay the premium for greater arrays of truly back positioned LEDs was insufficient to justify those expensive models and they were thicker too putting more people off.
Regarding MKV support this is down to chipset selection probably about 3-4 years ago now for 2011-2012 TVs and it not being as critical at that time. However the best solution is to find DLNA server software that can unpackage the MKV file and offer the (probably supported) encoded bitstreams over the local network.
Regarding the digital bling comment - most people can't spot even quite glaring picture problems and even the most basic Sony TVs are great pictures to them. The quality of all the TVs has been increasing significantly and the gain of moving to full array backlight has been dropping as local dimming has been added to the edge lit models. Also volumes are small so the price of the full array panels has not dropped with the others so they look even less good value.
The market for pure monitor panels with separate/optional decoder units is very small (see demise of Pioneer) and the low volumes would make such a product more expensive than the equivalent TV with many functions that you don't want. Don't consider them as extra cost but a cost reducing features by increasing volumes of product sold then you won't feel so bad. If you really want to go without the TV and online features Sony also make professional panels for broadcast use and other professional scenarios although for these you are probably looking at paying triple the price.
Re: Let's get it over with now
It depends on how far away from the screen you sit. A 55" 1920x1080 screen is not made for viewing from one foot away.
Re: ... and the verdict of the User Interface jury is...
I don't have a problem with the with this set's UI in terms of usability and navigation. Unfortunately it runs in quite a sluggish manner. Hopefully a software update sorts that out.