Microsoft will fiddle with prices as euro burns, UK biz fears
Tumbling currency a nightmare for costing volume buying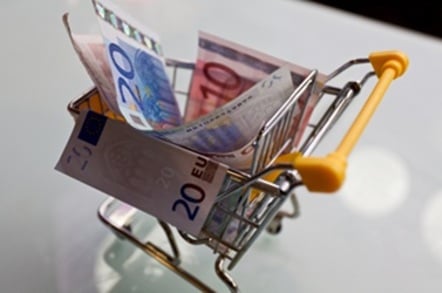 Microsoft's partners are braced for further changes in volume pricing this year as the euro flutters wildly in the economic storm.
The Windows 8 maker tore up its licensing price list and rewrote it in euros for a 1 July Europe-wide relaunch. At the current exchange rate with the pound sterling, UK customers will pay on average 29 per cent more for software that those on the continent.
But as Greece inches towards defaulting on its bailout terms, and other eurozone economies head south, buyers in Blighty expect the single currency to weaken further - and spark a string of changes to the volume price list.
"If Microsoft is making currency-based adjustments then I would guess that the Euro will fall in value dramatically against the pound, which means further price corrections," said one partner.
The worse-case scenario for resellers and distributors is to have regular movements in the list price, which will add complexity and uncertainty to the pipeline in terms of building reliable quotes for customers.
"When a vendor starts flexing pricing more regularly it creates issues," said a Microsoft distie.
A spokesman for Redmond again defended its decision to overhaul the way it calculates UK list prices.
"Microsoft's goal is to establish and maintain price consistency and the changes we have already announced help towards that goal. That said, Microsoft will continue to monitor currency movements and potentially make adjustments where needed," said the mouthpiece. ®
Sponsored: Minds Mastering Machines - Call for papers now open