Crazy Geckos: Nitot on Mozilla's post-Firefox mobile crusade
Open-source handset versus Android and Apple
Power of a browser
Much of Mozilla's ability to exert influence has come from Firefox; however, that influence must be in question now the baton of growth has passed to Google's Chrome, which launched in 2008 and which now, according to some analysts, takes up 32 per cent of the market and has pushed IER out of the way to gain thenumber one spot. Firefox is stuck on around a quarter of the web and isn't growing.
Doesn't this reduce Mozilla's leverage on mobile?
Nitot expects growth to resume with the rapid release cycles introduced last year for Firefox and a re-architecting that reduced memory consumption to help Firefox lose its memory hog. "It's not perfect but we are cranking new stuff and people see that arriving on their desktops and it takes time for them to change their minds," Nitot says.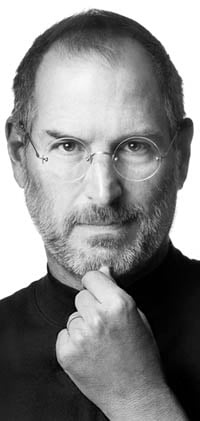 Adobe's Flash was Jobs' first iPhone victim
Nitot says: "If we have a market share that's big enough to be significant and put pressure on the competition – that's what I want. If we are big enough to put pressure on the others and have a good, healthy web, it's all right," he says. "Even a third place wouldn't be terrible."
On the subject of going up against moneybags Google and Apple, Mozilla is in a tricky – some might argue a "compromised" – position. Google is Mozilla's biggest financial backer, providing at least 86 per cent of its revenue: $300m, based on a 2010 financial statement. The pair renewed a deal last year that made Google the default search provider to Firefox. The deal sees Mozilla get a slice of search-ads related revenue from the Chocolate Factory.
Mozilla insists its search partner doesn't influence how it builds software. And, certainly, there have been ruptions between the pair. For example, when Google's former chief executive Eric Schmidt's lip was at its famous unbuttoned best in 2009, when he said that only people with "something to hide" wanted anonymity and privacy on the web. Soon after that, one of Mozilla's top developers started advising Firefox users to use Microsoft's Bing.
But it's obviously unhealthy to rely on one single source of income or a big financier. Especially if it is the web's largest ads engine. Especially not when your new phone undermines both the ads giant's handset and app store – using HTML5, B2G won't swallow apps from Google's Android marketplace. Instead, the idea is that you consume ordinary HTML5 apps that run in existing browsers. Even apps from Microsoft, such as the HTJL5 re-write of Cut the Rope that Redmond oversaw simply to prove the HTML5 credentials of IE9.
Nitot admits to ongoing discussions about finding sources of fresh funding but told me he has nothing new to announce. Meantime, there's no actual plan in place about how to make any money off B2G should actually follow the Firefox wave and take off. This really is the classic open-source school of "build it and they will come". Market now, monetise later.
According to Nitot, this is nothing new and a solution will present itself: he reminds me that he started Mozilla Europe nearly a decade ago ago from his apartment in Paris working with colleagues without getting paid. "As we enter a very different market with B2G there are things in to be invented there – but I don't know what, to be very candid.
"I started Mozilla Europe nine years ago and for first six months I was scratching my head on how I could make money and I couldn't find a natural answer. I tried training, fees, custom builds and one day I woke up and realized 'I'm wasting my time with that. Let's make a good product and convince millions of people to use Firefox and the rest will follow'.
"With B2G if we have really good product - and it's a strong focus in the Mozilla culture to have something that's delightful to use - the rest will follow."
Apple's Steve Jobs saw the money and implemented restrictions for the iPhone which he didn't, and that Apple now can't, apply retrospectively to the Mac.
If B2G is the new Firefox, then Mozilla and the open web stand a chance on mobile. Ideals are a luxury in the fast-paced world of money and power: the iPhone has only been with us since 2007 yet has 23 per cent of the smartphone market. Android booted in 2008 and has 59 per cent. Samsung is top of the Android pile. Last year, devices outsold PCs for the first time, generating billions of dollars for their makers and owners.
The other factor that might help B2G is the commercial interests of carriers and handset makers. An open alternative such as BSG would suit companies, letting them deliver branded versions of phones tailored with services they want. Importantly, it could overcome one of the biggest stumbling blocks for such companies: the app store. Sure we can all throw them up, but populating them is another proposition entirely. Using a model that uses pre-existing HTML apps could prove one way around this.
B2G has early support. Spanish carrier Telefonica plans to deliver B2G handsets in Brazil this year. Nitot says Telefonica is interested because B2G lets it deliver a smartphone at feature-phone prices.
The twist is, carriers and handset makers actually do crave the kind of power and control enjoyed by Apple with a closed market and development model. Apple's Steve Jobs saw the money and implemented restrictions for the iPhone which he didn't, and that Apple now can't, apply retrospectively to the Mac.
Mozilla will have to hope idealism wins out, and feeds into a belief that a web that's open to all pays better than a web that locks you in.
"When we launched Firefox I had a colleague of mine saying to the press here in the UK we'd be at 10 per cent market share by the middle of next year, I wanted to stop him. I wanted to say it's crazy, but we did. Now we are doing Boot to Gecko. These are crazy challenges, but it's in the nature of Mozilla to do crazy things that nobody thinks we would succeed at," Nitot says. ®
Sponsored: Minds Mastering Machines - Call for papers now open