Ten... Star Wars videogame classics
35 years, six movies, 120 games
Round-up Star Wars - there was no 'A New Hope' or 'Episode IV' back then - shot onto cinema screens on 25 May 1977, which means the franchise celebrates its 35th birthday today.
A day for celebration, then, that might be enough of an excuse for you to revisit our Star Wars gift guide and snap up some Tatooine tat, much to the dismay of your Trekkie missus.
Here at Reg Hardware, we've decided to take a look back at some of the videogame spin-offs that kept us busy over the decades.
Since 1983, more than 120 Star Wars-themed videogames have been published. And while current focus may still be with the MMORPG The Old Republic, or perhaps even Kinect Star Wars, if you don't mind the dated graphics, you could spend half your life playing old Star Wars games.
Here's a quick look back at ten of them.
Atari Star Wars (1983)
Arcade
Let's start by taking it back to the days of inserting coins in our local arcade, with this polygon-tastic flight fight. The player's ultimate goal was to destroy the Death Star through three attack phases, although as Lucy Orr rightfully mentions in our Arcade Classics roundup, speeding through the Death Star trench was the most memorable moment. Still, a lot of fun to be had for 10p.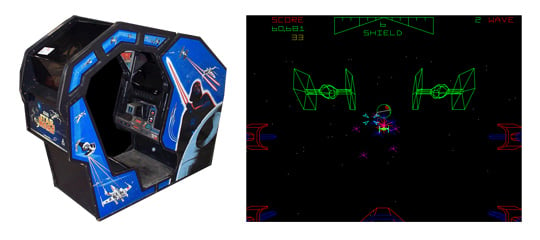 Dark Forces (1995)
PC, Mac
This one may as well have been called Star Wars: Doom, although with a decent plot and the ability to gun through Imperial bases, Dark Forces held its own and was an excellent game for its time. "You're in violation of Imperial law!" Oh yeah? Take this, Stormtrooper. Pew, pew, pew.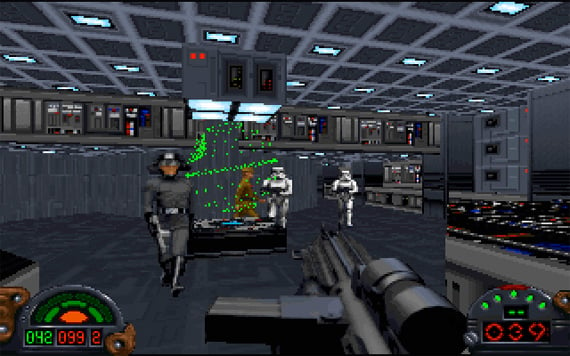 Episode I: Racer (1999)
PC, Mac, N64, Dreamcast, Gameboy Colour
This pod-racing game based on events in The Phantom Menace featured dozens of tracks and plenty of playable characters. It was a riveting experience that brought with it a true sense of speed, and despite being somewhat overshadowed by the poor reception of Episode I, remains one of the better racing titles in the Star Wars' line-up.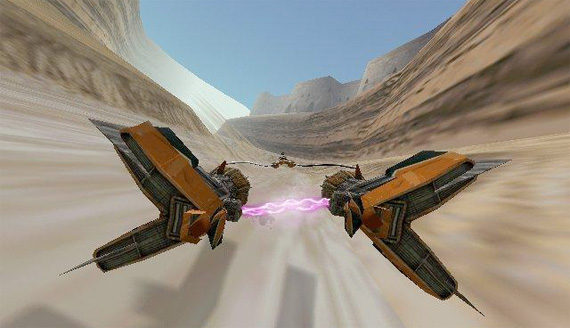 The Empire Strikes Back (1982)
Atari 2600, Intellivision
It may not be the greatest of games, but as the first title ever produced that bore the Star Wars name, this Parker Brothers' scrolling shooter for the Atari and Intellivision has to be mentioned. Players took control of a snowspeeder, battling Imperial AT-AT walkers, which took a surprising number of hits to take down. Just look at those graphics. Wow.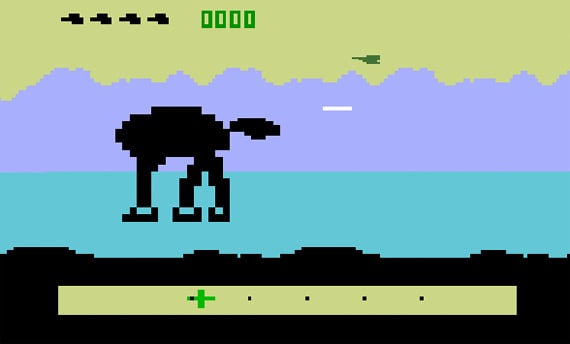 COMMENTS
TIE Fighter turned me to the Dark Side
X-Wing was cool, but flying a TIE Fighter was an epiphany. It turned me to the Emperor's side. Long Live Palpatine (and his clones)
No love for SW: Knights of the Old Republic?
Another
I definitely want to second (sixth?) the comments on Tie Fighter, whihc improved on the already good X-Wing, but what about Dark Forces: Jedi Knight? admittedly not the first FPS for Star Wars, but a terriffic game, goof FPS, getting to properly wield a lightsaber AND force powers for the first time, choice of light and dark paths throughout the game, etc. etc.
In Dark Forces 2 you had a light sabre...
The automatic blocking of enemy blasts with the lightsabre was supercool- one of the only games I went back and played through again. I always wanted to try the dark side but the moment I got my light sabre I knew it was time to be a hero.
X-Wing Alliance seems to have been left out as well...
The very best of X-Wing and TIE Fighter Collectors CDs, albeit with a massive graphical facelift and a pretty good story of it's own..