SpaceX does what it HASN'T done before: Dragon in close ISS flyby
Station 'nauts see light on but no one home on capsule
It's another moment of truth for upstart space startup SpaceX as once again the company attempts to do something that has only ever been accomplished to date by major government space agencies: docking one spacecraft to another in orbit and transferring cargo.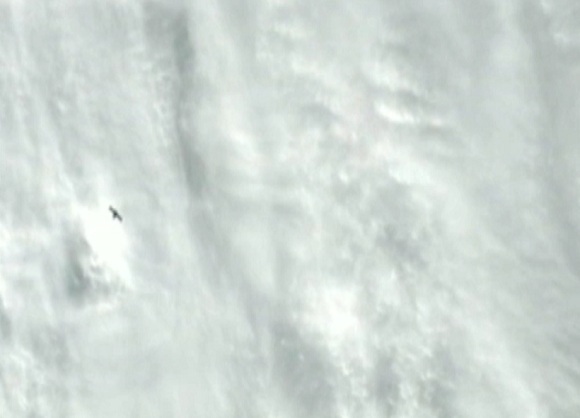 First time a US spacecraft has been seen from this vantage since the last Shuttle.
Having launched its new Dragon spacecraft on Tuesday - on only its second flight - SpaceX is now seeking to bring the ship to a docking with the International Space Station on Friday. Many boxes must be ticked before this can happen, however: but today the first was checked off as the Dragon made a close pass within 1.5 miles of the station, and 'nauts aboard the orbiting outpost confirmed that their remote-control console was able to command the new ship. This was done by ordering the Dragon to illuminate its strobe lights as it flew by the Station.
In fact the station's crew - the Dragon tests were handled by André Kuipers of the ESA and NASA's Don Pettit - couldn't see that the lights were on owing to bright sunlight illuminating the still quite distant Dragon. However telemetry confirmed that the capsule had received the radio command from the ISS and activated its lights, and viewers of NASA TV were treated to video of the Dragon as it gradually overhauled the station from beneath, passing above South Africa and the Indian Ocean as it did so.
Following confirmation that the station's control console can command the SpaceX ship, the craft will now perform a range of orbital manoeuvres ahead of its planned final approach for docking tomorrow. Provided that NASA controllers are happy that all is safe - a collision could have disastrous consequences for the hundred-billion-dollar station and its crew of six - the capsule will then come in within a few metres of the orbiting outpost before going to a freely drifting condition with its orbit matched to that of the ISS.
At that point the station's robotic manipulator arm, Canadarm 2, will grip the capsule and bring it in to lock its docking collar onto an ISS hatch. This will allow station crew to go aboard the unmanned Dragon and unload its cargo of supplies and experiments.
So far, all this will be no more than has already been done many times by automated Progress and ATV resupply craft from the Russian and European space agencies. However both of these designs must, having been unloaded, then be disposed of by jettisoning them to burn up in the atmosphere: they are one-use only.
The Dragon by contrast is expected to depart the station on or about 31 May and re-enter the atmosphere to land on Earth and be re-used, potentially cutting the cost of delivering supplies to the station by an appreciable amount. On this mission the Dragon is expected to splash down for recovery in the Pacific, but in future SpaceX intends to upgrade the craft with retro rockets and landing legs permitting it to come in to land with precision on a pad. This will further cut operating costs.
SpaceX, helmed by techbiz visionary Elon Musk, also plans to use the Dragon to deliver crews as well as cargo to the ISS in future: so restoring the USA's manned spaceflight capability – recently lost with the departure of the space shuttle. The landing retro-rockets would also function as a "launch abort" bailout system in the event of problems with the rocket stack on takeoff, blasting the capsule and its astronauts clear of any disaster or explosion and allowing them to parachute safely back down. Such a launch abort capability is regarded as essential for manned flight, given the nature of launch rocket stacks (essentially huge lightweight towers packed with volatile explosive fuels, which will be set on fire and subjected to enormous stresses, heat and vibration).
All that lies far in the future, however. For now, SpaceX has shown only that its Falcon 9 rocket stack and Dragon can take off (now twice) and re-enter to land (once). Tomorrow's docking will be a new trick for them. The signs are good, but tomorrow Musk and his colleagues must perform yet another first for commercial space flight. ®
Sponsored: Fast data protection ROI?