Wireless remote control inventor zaps out at 96
Eugene Polley took the knobs off technology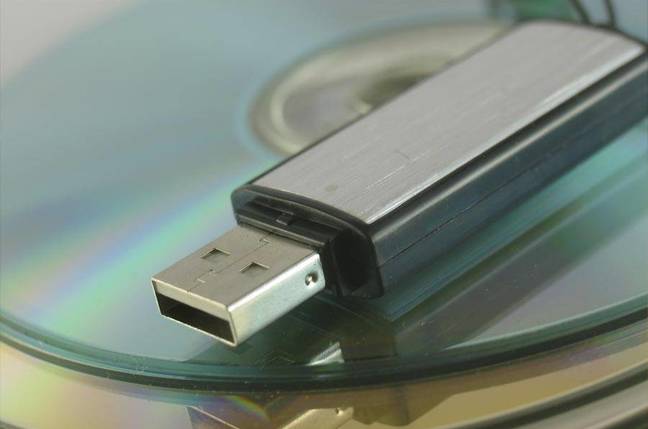 The man who took the knobs off the TV set and made a significant innovation in wireless technology, Eugene Polley, died yesterday in Illinois, aged 96.
Polley invented the first wireless TV remote control in 1955. Called the Flash-Matic, the remote was produced by US firm Zenith Electronics. The wireless remote has been hailed for freeing TV specifically and tech more widely of some of its wires and knobs.
Before Polley's invention, Zenith had produced a wired remote called the Lazy Bone, available from 1950. It allowed users to change channel from the sofa, but also meant lots of people tripped up.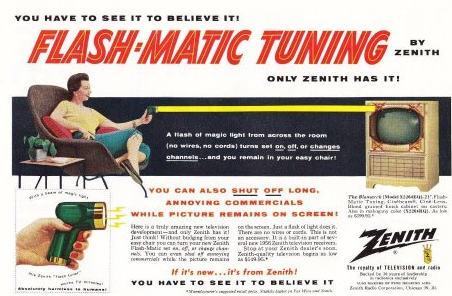 Shut off long, annoying commercials
With the 1955 Flash-Matic, Polley used light-sensitive photocells on the TV set to pick up up a flashlight on the remote. Shaped like a small gun, the green-and-gold Flash-Matic had a red trigger and different commands were activated by pointing the controller at different corners of the television – with the receiving photocells triggering different commands. It could change channel and turn the sound off, and was advertised as "Harmless to Humans" and a way to "shut off those long, annoying commercials".
A downside with the Flash-Matic was that it had a tendency to flip channels on sunny days.
Working with Robert Adler in 1956, Polley was involved with the the Zenith Space Command, a second gen wireless remote that used ultrasound signals instead of light. The Space Command mechanically produced ultrasound by clicking aluminium bars inside the box. Different buttons clicked different bars and each bar emitted a different frequency to control the TV. The receiver had a microphone attached to a circuit that was tuned to the same frequency.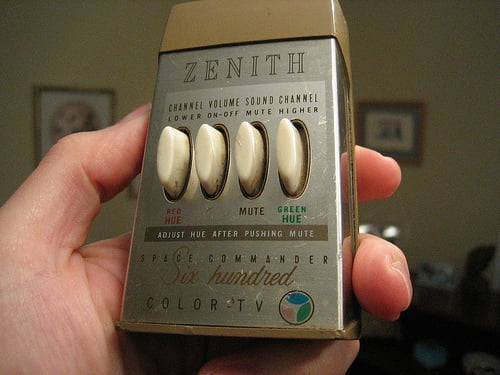 Since the '80s, infrared has been the most commonly used remote control mechanism for TVs.
Zenith was founded in 1918 in Illinois, as a small radio technology firm. The company is still based in Illinois, but is now owned by LG – and specialises in HDTV sets.
Polley worked his way up to the role of Division Chief engineer at Zenith after being hired as a stockroom worker. During his time at Zenith, he was also involved in creating the push-button car radio and contributed to the development of "video disks", a precursor of the DVD, in the 1980s. Along with Robert Adler he received an Emmy in 1997 for his services to TV. ®
Sponsored: RAID: End of an era?