Lenovo's on fire - and this time in a good way
Closing in on HP yet making loss in emerging markets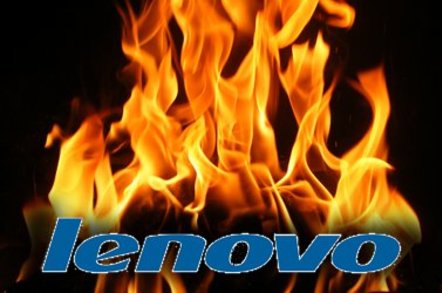 Lenovo set its sights on emerging and "PC+" markets as it seeks to build on what it describes as a record year.
However, it also needs how to make those markets pay as neither contributed to the firm's bottom line in its most recent set of results.
The Chinese PC giant turned in consolidated sales of $7.5bn for the fourth quarter ending 31 March, up 54 per cent on the year, delivering net pre-tax income of $102m, a 69 per cent jump on 2011.
For the full fiscal 2012, revenues were $29.6bn, up 37 per cent, while net pre-tax income came in at $582m, up 63 per cent on the year.
The company declared its PC market share now stood at 12.9 per cent for the full year, putting it squarely in second place between market leader HP and an anaemic-looking Dell.
While Lenovo often attracts attention because of its massive home market, its biggest growth rates came outside of China. Shipments in its backyard were up 22.7 per cent in the fourth quarter, helping it boost market share there to 30 per cent, and deliver Q4 sales of $2.9bn.
Emerging markets delivered shipments growth of 50 per cent in the fourth quarter, compared to what Lenovo said was an industry average of 7.4 per cent. Sales were up 43 per cent to $1.2bn. Mature markets - that is US, EMEA and the rest of the creaking West - saw shipments jump 81 per cent, with revenues up 85 per cent to $3.4bn.
The firm highlighted its performance in North America, where PC shipments were up 26 per cent in an otherwise flat market.
However, the slides accompanying the firm's results announcement showed that while Lenovo's China operation made operating profit of $95m in the fourth quarter, its China PC operating profit was $115m. It made an operating loss in emerging markets of $19m, while mature markets delivered operating profits of $74m. A similar pattern was shown for the full year, suggesting that it has yet to work out how to turn a profit on non-PC products, and non-Chinese or mature markets.
Laptops accounted for 56 per cent of Lenovo's Q4 PC shipments with sales up 41 per cent to $4.2bn. Desktop PC shipments were up 43 per cent, giving revenues of $2.4bn, a 45 per cent rise.
The company claimed that its Mobile Internet Digital Home products also saw strong growth. It claimed to be the fourth-placed smartphone vendor in China, with just under 10 per cent share. Its featurephones were up 4.5 per cent in China, while it claimed to have the number-two spot for tablets in China, and the fourth-placed spot worldwide.
As part of its Protect and Attack strategy, it hopes to transfer those non-PC products outside of China, first building up its brand, channel and ecosystem, then launching those PC+ lines.
However, as the numbers show, it will also need to work out how to make those lines pay first. ®
Sponsored: Minds Mastering Machines - Call for papers now open